2010 Tiger Mailbag: Free 25th edition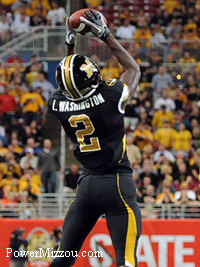 Each Thursday, PowerMizzou.com publisher Gabe DeArmond will answer questions from subscribers in our Tiger Mailbag. This feature will allow for longer, more in-depth answers than you may get on the message board on a daily basis. To have your question in next week's mailbag, send an email to Gabe at powermizzou@gmail.com. On to this week's inquiries:
the agency asks: What would you do if you were Mizzou with regards to the Runningback by Committee? Would you try all 4 game in and game out or would you try to name a starter and stick with him? Also, who do you think are the 1st and 2nd runningbacks on the depth chart next year? Do both Josey and Murphy pass KL and Devion Moore?
I'd stick with what they've done, which is give everyone a shot early and find out who's got it that day. However, what I would also do is identify the one or two guys who are playing better that certain day and they'd get pretty much all the carries for the final two quarters. That's one thing that hasn't always happened. It has at times, but then you have Murphy and Kendial bust 70 yard runs and end up with only seven more carries TOTAL. That's not enough. Give them more chances. I like having multiple backs, but I also like the idea of riding one or two every game. It doesn't have to be the same one or two every game, but I'd ride the hot hand. As far as next year, I've got no idea at all.
the agency asks: Do you think Franklin gets a few series before the year is done? If he does and it is in mop up time, does he get to open the playbook or run sneaks?
There are only two situations where Franklin is going to play it seems. Either if Gabbert is injured or if the game is a blowout. That was proven to me on Saturday night. The staff obviously feels that Blaine is the best chance to win even when he's having an off night. And I'm not saying that's wrong necessarily. If Franklin plays because Gabbert is hurt, obviously he runs the offense. If he plays in a blowout, history suggests it will mostly be to hand off or run it himself.
TNMizzou asks: Have you heard of any of the redshirt freshmen that are impressing the staff or other players?
I've heard some positive reviews on Mitch Morse, Lucas Vincent, Tristen Holt and Xavier Smith. Plus, obviously, Hunt and Sasser looked pretty good in fall camp. I haven't obviously gotten to see those guys in action since fall camp, but those are the whispers I've heard.
Handsome How asks: Does Pinkel have coaches come in at the end of the year to evaluate his staff, offense and defense?
They do this every year. I know they have visited (I think) Utah or Bowling Green in the past as well as the Indianapolis Colts and, I think, the Chicago Bears. The staff spends time every offseason evaluating what they're doing and trying to find ways they can improve. I know some don't want to believe it, but they do.
mglassma asks: Are there any rumblings about trying to give L'Damian Washington, Jaleel Clark, Kerwin Stricker, Gahn McGaffie or Marcus Lucas more reps. Its seems that you get little to no production out of Wes Kemp and JJ has really regressed. Why not see what some of the other guys can do?
There aren't any whispers because these coaches and players are smart enough not to say things like that out loud. But it is something that I personally believe ought to be done. Lucas and Gerau have caught the ball when it's been thrown to them. McGaffie showed some potential on the kick return and I've liked Washington for a couple of years now. I think it's something that has to be considered. The drops have been a problem and you simply have to have guys in this offense who catch the ball before you worry about anything else. I would think the leash might be a little shorter at receiver outside of Moe and Egnew, but it's just a guess.
MizzouDizzle asks: Have you ever heard rumors about Mizzou that were/are similar to the situation with Auburn?
Not in this decade. There were rumors, particularly around basketball, back in the early nineties (and not just with the stuff that got Missouri put on probation). But the thing is, with all the media, social networking and increased glare on college sports, things like this don't happen without ANYONE finding out. I've never heard any rumors of NCAA improprieties around Missouri. And if they'd happened, I have to imagine SOMEONE would have found out about them.
Mike Damone asks: Some have criticized Pinkel and Co. for failing to adjust the offensive system and play calling to the Tigers' current personnel. A pro-style quarterback is running the option. Four and five wide receiver sets are used even though perhaps only one wide receiver is capable of both getting open and catching the football. And we still pass more than we throw even with a couple of young, talented running backs and likely Pinkel's best offensive line. What is your take?
Let me preface this by saying I don't agree with those who say Pinkel's staff is inflexible. They created a new offense for Brad Smith and then created another new one for Chase Daniel. They changed their base defense a few years back and installed new schemes this offseason. So they do change. But I would also say that I think it's time to perhaps take a serious look at the scheme this offseason. I'm an advocate of the spread. It's done great things for Missouri and you don't scrap it. But I do think there are some ways they could look at doing different things out of it that might give the Tigers a more efficient offense, particulary in third down and goal line situations (and to be clear, I don't care one bit if they use a fullback, I just think there are ways you could tweak things to improve those areas).
Mike Damone asks: In my opinion, the level of criticism aimed at Blaine Gabbert has been out of proportion relative to his actual performance on the field.
Do you think he's been as bad as some suggest or is he mostly suffering from having to be compared to Chase Daniel and the expectations of his 5-star recruiting ranking?
I agree completely with your take. Yes, Blaine has struggled the last two weeks. And, yes, he deserves some of the blame for the offensive issues. But I don't think he deserves all of it. The receivers aren't getting open enough, they aren't breaking tackles to create big plays and they are dropping too many passes. The line wasn't very good at Nebraska (though I thought it was fine against Tech). I believe that the five-star, No. 1 quarterback ranking is a great thing that any kid would like to have. But I also think it creates a notion among fans that the kid should be perfect from the first day he steps on campus. A five-star will be criticized more quickly and more frequently than a three-star because there is a perception among fans that he's a better player. I think Gabbert deserves some criticism. I don't think he deserves the amount he has received.
dvyyyy asks: Do you think Josh Tatum will ever earn significant playing time before his career is over?
I don't know. You will NEVER see me write a kid off before his career is over. Look at Derrick Ming. Kid hardly played a down on defense for three years and then started as a senior, had a solid year and made a game-clinching play in the Independence Bowl. Careers last four, five, or six years for a reason. Not everyone is going to reach his potential as a sophomore. And another thing to remember about Tatum is that Missouri fully expects him to regain a year of eligibility.
Due to the sheer volume of questions, we can't answer every one every week. If your question did not get answered, give it a shot again for next Thursday. The Mailbag will run every Thursday on the site.