Anderson evasive upon his exit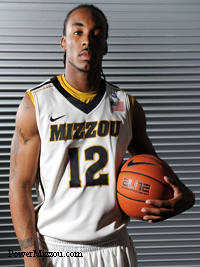 On one of the most tumultuous days in the memory of Missouri sports, Mike Anderson's players did what the by then former Tiger coach could not. Walking out of a team meeting at Mizzou Arena, player after player wiped tears from his eyes while offering up a no comment to a throng of media.
"We'll talk at the press conference tonight,"
Marcus Denmon
said.
The day dawned with reports out of Arkansas that Anderson would be the Razorbacks' next head coach, replacing the fired John Pelphrey. At the same time, optimism flowed from Columbia, with most insisting Anderson would soon sign a contract extension believed to be worth $2 million a year for seven years.
Throughout the day, the momentum swung heavily to Arkansas. At approximately 4 p.m., media began to assemble outside Mizzou Arena, ready to get the latest on the coaching situation. Some of that media then drove to Columbia Regional Airport on a tip that Anderson's plane from Tulsa soon would be landing.
From behind a fence a little more than 100 yards away, the media watched airport security bring a silver SUV up to a plane sitting on the runway. Two more trucks pulled up to block the view of the plane's exit, but a group believed to include Anderson's family hustled into the vehicle and sped away.
Shortly thereafter, word began to emerge of a team meeting scheduled at Mizzou Arena at 7 p.m. Asked about the meeting, one player told PowerMizzou.com via text message "We'll be FINE without him."
By the time everyone had assembled at the arena, the word was out. At some point during the meeting, Arkansas officially announced Anderson as its head coach.
"It is a tremendous honor to be named the head men's basketball coach at the University of Arkansas," Anderson said in a statement. "I want to thank Chancellor (Dave) Gearhart and Athletic Director Jeff Long for this opportunity to lead the Razorback Basketball program. I am extremely excited to once again be a part of this special University and Razorback Athletics. With the continued passionate support of all Razorback fans, I am confident that we will have the opportunity to succeed on and off the court and continue to build on the University of Arkansas' championship tradition."
The comment was the only one available from Anderson, who was shuttled in and out of the meeting outside the view of the media.
Steve Moore
stormed past the media and drove away.
Matt Pressey
offered a no comment.
Kim English
promised he would speak at Missouri's 9 p.m. press conference.
Athletic Director Mike Alden will also be at the press conference. PowerMizzou.com will have complete coverage throughout the night.
Nobody covers the Tigers year-round like PowerMizzou.com. If you are not yet a member, just try out our free trial.