Behind the bowl snub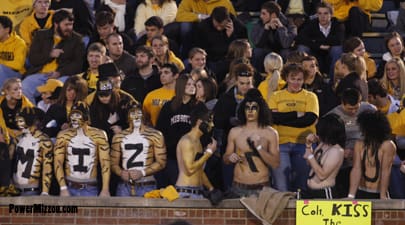 Very little attention is being paid to where Missouri is playing in a bowl game. Most of the energy over the last few days has been spent on where they should be playing.
First of all, the bowl system is not fair. It is not based on what happens on the field. The biggest issue for fans is accepting that fact.
The bottom line is that the Insight Bowl believes Iowa State will bring more fans to Phoenix than Missouri. Whether that is right is not something that can be determined. The more important question for Missouri is, is this a big problem and can it be fixed?
We'll deal with the first question first. This is the third consecutive year that the Tigers have seen a team they beat be selected before them in the Big 12 affiliated bowls.
"We are proud that we had the fourth best record, along with one other school, in the Big 12,"
Gary Pinkel
said. "The process of the Big 12 has been frustrating, but I also don't think this is the appropriate time. I think that's a conversation, discussion, to have at a later point."
"That's part of a larger picture like coach said," added senior associate athletic director Mark Alnutt. "This is a process that has to be discussed, evaluated, but right now, my main job is I'm excited about travelling our student-athletes, coaches down to Houston and make sure it's the best bowl experience they can have."
Pinkel also listed the reasons this is a good bowl for Missouri. A big Texas alumni base, the ability to play in a strong recruiting area, and a homecoming for many players. So, yes, there are advantages. But there are also some things on the other side of the ledger. The difference in travel allowance between the Insight Bowl and the Texas Bowl is approximately $500,000.
"We're not sacrificing anything for our student-athletes out there, coaching staff, support staff, who have worked a great deal to get us to this level," said Alnutt. "We'll evaluate other areas to see what we can do to, obviously, make it fit within the budget."
But that is not exactly true. The Tigers won't sacrifice anything for the team. The players and coaches will still leave town on December 26th and have a full five-day trip to Houston. But there will be allowances made by the school.
"Can we travel the full band down there? We usually have maybe additional staff from our department would come down on the trip like the day before. Maybe that's off the table," Alnutt said. "There's things that we can look at to get close to breaking even."
In other words, it is a possibility-perhaps a very real one-that by going to a bowl game, Missouri could actually lose money.
"Potentially. But that's why we have to throw everything on the table," Alnutt said. "The bottom line is what is the bottom line? Is it going to be even or is there going to be a deficit?"
So, did the snub from the Insight Bowl have a negative effect? Whether it bothers the players or coaches, yes it did. And everyone wants to know who to blame. The first shots were fired at Mike Alden and the athletic department. Alnutt said they spent most of last week, in effect, selling themselves to potential bowl destinations.
"There was information sheets sent out to all of our bowl partners about why should it be us. I think we did a great job. Everything we could do within the Big 12 bylaws, we did," Alnutt said. "I don't think, looking back at it, is there anything we could have done more? No."
In addition, Alnutt pointed out that the Tigers were very close to being on the other side of this equation. Had Oklahoma State beaten Oklahoma and gotten an at-large berth to the Bowl Championship Series, Missouri could have been in the Cotton Bowl over a Nebraska team that it had lost to and that had a better record.
"There was a possibility where we had a legitimate opportunity at the Cotton Bowl this year, believe it or not, if things would have worked out that last weekend. But they didn't," Alnutt said. "If that would have happened, we'd have been the school that reaped the benefit while there would have been other schools (saying), 'Hey, why should they jump past us?'"
And now that it has worked out this way, the onus falls on Missouri fans to ensure the same scenario doesn't unfold in future seasons.
"One thing that certainly we have to do is you have to travel well to bowls. That's part of the deal," Pinkel said. "Bowl representatives call other bowls and say, 'How did Missouri travel?' They've got all the numbers. That is a huge factor in making a decision on selecting teams."
Pinkel credits the Missouri fanbase for what it has done over the past few seasons.
"What we've done here fan wise has been tremendous. You look at the first year we were here in 2001, shoot, we got 50 thousand a game we were doing backflips," the coach said. "How all that's changed, how our fans have changed, wearing gold, how our fans have turned the Zou into a very, very difficult place to play, all that's changed. How we travel now, during the season, numbers are not close to when we first got here. All those things have changed in a positive way."
But he also knows it has to continue to improve.
"My statement is you're going to a bowl to watch your Missouri Tigers play. That's what it's about. It's like you go to the Zou, you don't care who Missouri's playing in the Zou. You don't care. You're going to see the Missouri Tigers play and whoever happens to be in there, that's fine. Whoever happens to be in the bowl game, that's fine. I think we're trying to change that culture and our fans have done remarkable, but I think as we continue to grow, our fans have to also."
Nobody covers the Tigers like PowerMizzou.com. If you are not yet a member, just try out our free seven-day trial.