Camp Preview: Tight End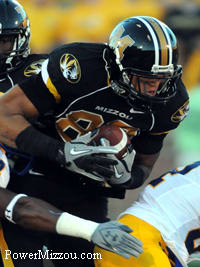 PowerMizzou.com will get Tiger fans ready for fall camp like no one else. Camp opens on Thursday, August 4th. Between now and then, we will provide an in-depth preview at every position on the roster. Today, we look at the tight ends.
The Starter
No player is more secure as a starter than
Michael Egnew
. With an all-American, Mackey-finalist season behind him, Egnew has his sights set on some of the numbers compiled by Martin Rucker and Chase Coffman.
The Backups
Eric Waters
got on the field quite a bit as a freshman, but wasn't a primary target. This year, that could change, especially if the Tigers don't get big plays out of the wide receivers.
Andrew Jones
has seen his role in the passing game diminish over time, but is still a solid blocker and contributor in certain situations.
What to Like
In Egnew, the Tigers have America's most productive tight end and a guy who should make Franklin's transition quite a bit easier. Any time you have the country's top player at a position, you have to like the prospects.
What to Wonder About
Beyond Egnew, what does Missouri have? A total of one catch for seven yards last season.
The Expectations
Tight end isn't a concern. Assuming he stays healthy, Egnew will be one of the country's best. Waters' time will come…but not this year.
Nobody covers the Tigers year-round like PowerMizzou.com. All of our previews leading up to the first practice will be free content. If you are not yet a member, just try out our free trial.