Earning his way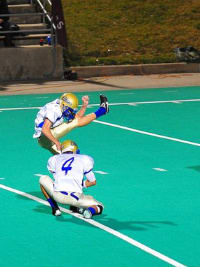 Missouri hasn't signed a kicker in a recruiting class since 2007, when the Tigers signed Jake Harry out of Palomar Community College jn San Marcos, Cali. That doesn't meant Gary Pinkel's staff is overlooking the kicking game, however. Instead, they're now focused on bringing in kickers that will earn scholarships while on campus.
That's what Missouri City (TX) Elkins kicker Nick Coffman is hoping for. Coffman is a Missouri legacy, as his father graduated from the university in 1987. Now, Coffman has accepted a position as a preferred walk-on for Pinkel's Tigers, and will enroll this summer.
"The best way to become a preferred walk-on is to reach out to them," Coffman said. "Especially with kickers. They don't really look at us until later on. Fortunately for me, they asked if I could be a preferred walk-on early."
Coffman sent a tape of his highlights to Missouri's staff last spring, and they asked him to come to one of their summer camps.
"I did really well, and we kept in touch," Coffman said. "They asked me to be a preferred walk-on in November or December."
Coffman didn't accept that invitation right away, however.
"I was a little bit hesitant at first," Coffman said. "I wanted to look at a few other schools that were interested in me. But Missouri was the most prominent school that stood out to me, and that's simply because of the coaching staff and the atmosphere, and also academically. I want to go into business, and they have a really good business school."
Although Coffman isn't arriving on campus with a scholarship, he said that hasn't affected how the coaching staff treats him.
"They treat everyone as an equal," Coffman said.
Missouri's kicking game struggled this spring, and Pinkel mentioned in one post-practice interview that at least one of the preferred walk-ons could contribute this year (Lee's Summit West K Brad Clements is also walking on). Coffman is aware that he could get a serious look during fall camp, and is preparing to make an impact as a freshman.
"I'm very accurate on field goals," Coffman said. "I'm working on my distance, and last week I hit a 58-yard field goal during practice."
Coffman has been working with recent Texas Tech graduate Donnie Carona, and he's focused more on his form at this point.
"So much of kicking is flexibility and form," Coffman said. "I've been working with a trainer to get my core stronger and stronger in general."
Nobody covers the Tigers like PowerMizzou.com. If you are not yet a member, just try out our free trial.