Familiar faces discuss new roles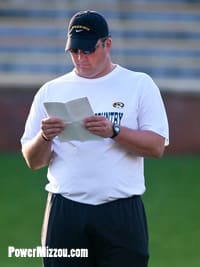 "Well, my mom caught me drawing football plays on the table when I was like eight years old," Henson said. "I've always been into the X's and O's part of the game and I've fortunately had great high school coaches and great college coaches. It's just something that's been in my heart and soul for a long time to do."
In the last week, Henson had two offers to realize his goal.

"It's been an interesting process to say the least. It's kind of funny being on the inside of one of these things, how many things are reported that may or may not be true," Henson said. "Obviously, we've really enjoyed our time here at Missouri. My family and my wife and kids, they wanted to stay. There was another opportunity presented to me, but in the end, I was able to find a good opportunity here at Mizzou. This is where my heart's at and where I want to be and I'm glad I was able to stay here."
"For me, certainly I was disappointed a little bit. At the same time, I can still be at Missouri and move along with kind of a step up in my career and just go from there," Hill said. "They ended up going with Josh. Josh Henson is going to be a great coach for us and we're glad he's still gonna be here."
Hill has coached quarterbacks for four years during his career, but admits there will be a learning curve.

"The footwork and mechanics, just the fundamentals of the position. I've obviously done receivers for 17 years at Missouri and so I know what it takes, I played the position," Hill said. "I'll confer with coach Yost and touch base with him from time to time and there's a lot of good coaches out there that have come through here and guys you respect and guys you try to learn from. I'll find my role, there will be some things I need to learn as we go back into spring football, but hopefully by the time we go into two-a-days, I'm as comfortable coaching quarterbacks as I was receivers."
That teamwork is something that Henson stressed as well. He has spent game days in the booth with Yost over the past couple of seasons helping to call plays.
"There was a lot of back and forth, but that's what you do when you're a good staff and you're all together and you're all working on the game plan together and all have input," Henson said. "I'm gonna need Andy Hill's help and I'm looking forward to this combination of coach Hill and I working together to get this thing done right. At the end of the day, that's the way you want it to be. It's not a dictatorship. Somebody's got to make the decisions at the end of the day and that will be me and I'll be responsible for it."

As for exactly what spin Henson will bring to the Tiger offense next season, he preferred to keep people guessing.
"Well, if I'm smart, why would I tell you that, right? Why would I tell everybody what we're gonna do next year?" Henson said with a smile. "The truth is we are a certain way and everybody knows this. You just look at our personnel and our roster, that's who we are. Even if we wanted to change that, that will take time to change and I'm not saying that we do want to change it. I have my own ideas about what we're gonna do on offense, I have my own philosophies about things that I want to do. Will there be things different than what we've done? Yes, but I also think that there's value--and I don't think people can discount this--that there's value in the kids being familiar with a system and names and terms and some of those things. You've got to make sure that you mesh those ideas together."