Front five will take shape in spring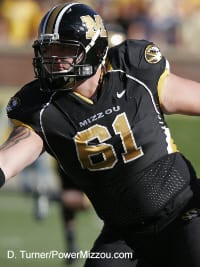 Missouri opens spring football practice on March 11th, just 11 days from now. Over the next couple weeks, PowerMizzou.com will be previewing the most anticipated spring in school history from every possible angle. Today, we take a look at the offensive line:
The Starters
: Missouri does have to replace two starters here, but there are not a ton of question marks.
Tim Barnes
is in line to take over at center for Adam Spieker.
Ryan Madison
,
Colin Brown
and
Kurtis Gregory
also return as starters. The fifth man going into spring will be
Dain Wise
, who has a decent amount of time on the field from last year.
The Backup Race
: You aren't looking for five guys here. Realistically, you are looking at seven or eight linemen who play. That means you need two or three solid backups. From what we can put together,
Jayson Palmgren
,
Elvis Fisher
and
Mike Prince
seem to be the three guys who have the best shot at filling those roles. Palmgren is going to be the backup center while Fisher can help out at either tackle spot and Prince probably at a guard.
The Top Storyline: The first one is who plays where. There has been a lot of speculation that Gregory could move to left tackle to replace Luellen with the fifth starter (Wise or someone else) stepping in at Gregory's right guard spot. Or, Brown could move to left tackle and Gregory and Wise could man the right side. Or Wise could slide in at left tackle and Gregory and Brown could stay put. In other words, we don't know.
Position Rating: The offensive line might have been the most underrated part of the team last year. Without the line, the numbers that offense put up simply aren't possible. Yes, they had a couple of off games, but overall, the Tigers were very good up front. Spieker is the toughest to replace and Barnes has a big job ahead of him. This unit has a shot to be very good, but we've got to see it on the field first. At this point, we'll rate it a seven.
Coming tomorrow: The defensive line