Gibson etches his name into Tiger lore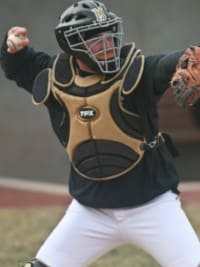 No one covers Tiger athletics like PowerMizzou.com. This year, we've added baseball coverage to our top-notch football and basketball beats. To follow the Tigers year-round, sign up today to start your Free Seven-Day Trial.
Missouri head coach Tim Jamieson is counting his blessings. For close to a decade on Friday nights, he has been able to hand the ball over to a star pitcher who has dominated batters with power and nasty off-speed pitches. This season, junior Kyle Gibson is his next ace.
"I have been pretty lucky," Jamieson said. "Over the last six or seven years, I have been pretty fortunate. So Kyle just is continuing the tradition of what Aaron (Crow) did, and Max (Scherzer) did, and (Garrett) Broshuls did before him and Justin Stine. I don't even know how to even answer that because it's what I have come to expect."
Maybe it is what he should expect. Earlier this year, Jamieson moved into second place on Missouri's all-time coaching win list. He has presented Mizzou fans with powerhouse after powerhouse the last few seasons and continually runs a respectable program on and off the field. Gibson, a native of Grennfield, Ind., said he chose Missouri because coach Jamieson made it feel like home.
Now, Gibson (3-1) is making headlines everywhere. After going toe-to-toe with Texas ace Chance Ruffin this past Saturday, Gibson proved why he might be the best pitcher in college. The Missouri ace pitched a complete game, gave up no runs and led the Tigers to a 2-0 victory over the No. 1 team in the country. Not to mention it was in Austin. People started to take notice. By midweek, Gibson was named Big 12 Pitcher of the Week and National Pitcher of the Week.
"That's what I want to do," Gibson said. "First and foremost, I want to go out there and give my team a chance to win, whether it's the first game of the series on Friday or the first game of the series on Saturday. As long as I can go out there and give the team a chance to win, that's what I want to do."
When Jamieson speaks of his newest prized pitcher, his tone is serious. His voice is filled with pride as he compares him to last year's ace Aaron Crow. Crow finished the year 13-0 with an E.R.A of 2.35. It's no surprise that Jamieson sees similarities between the two.
"I think more than anything else, first of all both of them have tremendous competitiveness and work ethic, but I think just like Aaron learned from Max, and Kyle has learned from Aaron, they kind of learn how to prepare, how to take care of their bodies, learn what to do between starts," the coach said. "The thing that sets them apart is their confidence and competitiveness."
Perhaps no one has a better understanding of the Tigers ace than catcher Trevor Coleman.
"He has three above average pitches that he can locate every Friday night, so that's important," Coleman said. "He has good command and three pitches that can get anybody out at any time."
Coleman also had the privilege of catching for Aaron Crow last season.
"He's just as good as a competitor as Aaron was and has just as good of stuff, if not better in both those categories," he continued "He is similar to Aaron crow, a guy that will go out there and empty the tank for you and give it everything he's got. He has great stuff and a great attitude to go with it. They are very similar."
Gibson spent time absorbing information from Crow his first two seasons. Although he only made a few starts during this time, Gibson spoke highly of the impact Crow had on him.
"It all started freshman year. I knew he was going to be the guy on Friday," Gibson said. "I ended up being the guy in the bullpen. Even though I was in the bullpen, I learned a lot from him. Just learning how he attacked hitters. He never really feared anyone that was in the box. That was one thing that I really learned and took to heart even when I was in the closer role."
One thing is clear, when his teammates and coach talk about Gibson, everyone talks about his leadership and competitive streak. According to Gibson, he gets a lot of his confidence from the fact that his coach and teammates always have his back. It is these relationships, such as the one he holds with his family, that allow him to play at such a high level.
"God blessed me with a bunch of talents," he said. "You know blessed with 6-foot-6 and you know stuff like that. Great parents who have been able to travel with me wherever I go. I think that is one thing that has been really nice. My parents have been there for me at every level."
Gibson, who has an E.R.A. just under one, started pitching for his dad's travel team when he was seven years old. As he recollects, he can't help but laugh at his beginnings.
"We got killed by every team we played because we were fresh out of little league," Gibson said chuckling. "Actually the first game I pitched we played the best team in Nebraska and they beat us 11-1, and they could of beat us 50-1. I was throwing from the windup with a guy on first because I had no idea what to do."
Fast-forward to now, and Gibson is no longer the one dominated by his opponents. Instead, batters cannot keep up with a man putting his name in consideration for a top draft pick. On Friday night, he will take the ball again for the Tigers against yet another Big 12 powerhouse, Texas A&M. Along with the rest of his team, the big righty is looking to show opponents that Missouri should not be taken lightly.
"We proved that we are not just going to be a team that lies down," Gibson said. "Maybe our record does not show how good we are, actually I know it doesn't show how good we are. We are probably the best 8-10 team in the nation right now, or 9-10 or 9-11 whatever we are. We still know we are going to compete for a league championship."
The Aggies come to Columbia holding the title of the No. 3 team in the country. Texas A&M, however, has lost three-straight games with the last two coming at home. Gibson will square off against Brooks Raley (4-0) in hopes of leading the Tigers back to .500 on the year and in the Big 12.
"I think the key to any Big 12 series when the teams are as close as we are in the conference is who is going to make the fewest mistakes, and who is going to play the best on the weekend and that's everything," Jamieson said. "Starting, relief pitching, defense, hitting the whole thing. It's the whole package. Whoever plays the best will win the weekend."
Texas A&M comes to Taylor Stadium without a road victory on the year. The Aggies score tons of runs and have 27 homeruns on the year. On the other hand, the Tigers have been looking for anything to get their bats going. They have just eight homeruns so far, and they had only four hits on Wednesday against SIUE.
One of the bright spots for Tigers as of late has been their spry shortstop Michael Liberto. Liberto says the Tigers are looking to play more small ball and focus on timely hits.
"We have to score more runs," he said. "We have been hitting the ball alright. We could be hitting it better, but we need to play more as a team and start getting more runs across. We did fine against Texas. We had it up to the last three outs, but we didn't close it out."
According to Jamieson, Gibson will start on Friday, and Nick Tepesch will take the mound on Sunday. He is unsure who will pitch on Saturday, but it will most likely be Ian Berger he said. If Berger gets the start, he said he and the Tigers will be ready.
"It's conference. It's exciting," Berger said. "They are a good team. They swept us last year, so we have a little bad blood with them. We are going to be ready to play."
No one covers Tiger athletics like PowerMizzou.com. This year, we've added baseball coverage to our top-notch football and basketball beats. To follow the Tigers year-round, sign up today to start your Free Seven-Day Trial.