Insiders take on Haith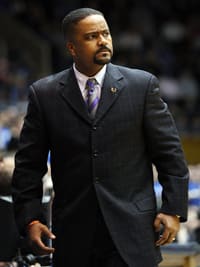 Just hours after news broke that Missouri was hiring Miami coach
Frank Haith
,
PowerMizzou.com
got to work on giving Tiger fans some insight to their new coach. We spoke with
Gary Ferman
, the publisher of
CaneSport.com
, the Miami site on the
Rivals.com
network. Here is our Q&A session with Ferman:
What has the reaction been down in Miami to the news that Haith was headed to Mizzou?
"I think is a positive move for Frank Haith. He is a great human being and people will really like him. This was his first head coaching job and he kind of learned how to be a head coach on the job here. I'm not sure that will work in the ACC. The ACC is a tough conference. I'm not sure it will work here with a coach who is just cutting his teeth. He has just never been able to get over that hump here and he probably would have been under an enormous amount of pressure. All that said, I'm not sure this is the disaster many people at Missouri are making it out to be on the initial reaction.
"He was an assistant coach at Texas and he was one of the best recruiters in the country. No one has to worry if he is going to be able to recruit. He has seven years of experience and that's going to make him a better hea coach. He is going to learn from the mistakes he has made. You're getting a guy that can recruit and he should be ready as a basketball coach to take that next step. They're getting a good human being who people will like. It's good for Frank Haith, probably good for Miami and it remains to be seen if it will be good going forward at Missouri."
You mention the recruiting as an assistant, but he never got it done at Miami. Was he unable to continue that recruiting? Did he get the kids and couldn't coach them up or is Miami just a place you can't win?
"The big problem wasn't recruiting other than a couple of big time South Florida prospects he wasn't able to get. Brandin Knight at Kentucky was the number one player in the country. He grew up 30 minutes north of Miami's campus. To be successful here, you can't let that kid get away. You have to get that kid. Kenny Boynton at Florida is another one. Kyle Marshall, who's playing in the national championship game as a true freshman who left town. Where the recruiting failed a little bit was locally. Overall, the roster isn't horrific. Miami is a team that played everybody in the ACC extremely close. Even their losses, they were getting beat in the final seconds. I felt it was probably more on the basketball coaching side of things. I felt he probably needed a better number two assistant that would help him make the difference in those situations. It was not a disaster here, he just wasn't able to get that elite player that could take them to the next level. Miami wasn't very far away from being a top five team in the ACC this year."
Speaking of recruits and his staff, do you have any feel yet for which players and coaches might follow Haith to Mizzou?
"I really have no idea right now."
There has been talk that Miami is letting Haith go with no penalty. Did he not have a buyout or is Miami okay just letting him walk?
"There may not be a buyout in his contract. I'm not sure of that. I could see that being the case, but it was also just evident that it wasn't happening here. He just wasn't getting over that hump. He wasn't getting fired this year, his job was not in jeopardy, but he would have been under an enormous amount of pressure next year and if he didn't make the tournament, he probably was going to get fired…It's a win-win situation. I can see Miami having no inclination of making him write a 500 thousand dollar check and holding a gun to his head and making him stay."
You mention many times him being a great person. Did he have any off-court problems with his kids and specifically what is it fans will like?
"I wouldn't say he had any problems off the court really. There were one or two kids he had to let go, but relatively speaking, I think that's pretty normal. For the most part, his kids were great citizens, went to class and represented the program well. There weren't any issues in that regard. Frank is a really good family man and he sets a great example for his kids."
Nobody covers the Tigers year-round like PowerMizzou.com. Throughout the coaching search, PowerMizzou.com has kept Tiger fans in the loop every step of the way. If you are not yet a member, just try out our free trial.