Kreklow, Pressey working hard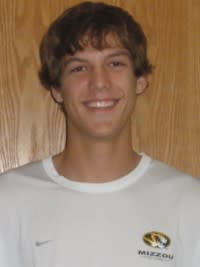 ST. LOUIS --
Ricky Kreklow
and
Phil Pressey
may have played in a high school all-star game Saturday in St. Louis, but the pair has already begun the transition into college athletics.
The incoming freshmen have started classes and workouts and are both getting used to the life of a college student-athlete.
Part of that change is coming on the court, where they are learning from playing with their new teammates.
"The game is fast," Kreklow said. "There's a lot of strength to work on, a lot of things you need to get used to at the college level. All the newcomers are acclimating pretty quick and we're all filling in our roles.
"I'm trying to absorb things from everybody so I can try to make myself as good as I can."
Kreklow said he is working on his spot-up shooting and attacking the basket and dishing out. Pressey is trying to improve his shooting stroke.
"Right now I've been working on my jump shot, just trying to get it ready," Pressey said.
In addition to improving their games, the pair is working on getting used to the lifestyle of college athletics.
"It's different, having workouts in the morning then class then playing pick up later on," Pressey said. "It's just different, changing the whole mindset."
Being the son of Missouri volleyball coach Wayne Kreklow and director of volleyball Susan Kreklow, Ricky knew the time commitments he was getting into.
"What's nice is I've been around it so long," Kreklow said. "The biggest help that I've had is time management. You learn to get stuff done quick with assignments.
"It may not sound fun because your day's all taken up, but it's worth it if you love the game."
The new teammates are getting to know each other on the court and off. Living in the dorms, they have rooms on the same floor and are joined by other Missouri basketball players.
"A lot of the players, we all stay by each other," Pressey said. "Ricky, me and him, it seems like we've known each other for a long time."
When acclimating to a new team, Pressey is glad to have others like Kreklow to share the bond.
"We've going through the same stage so it's easier to do it with somebody else," Pressey said.
The season may be months away from tip-off, but such interaction had Kreklow already feeling positive about how the squad gets along.
"The chemistry is real good on the team," Kreklow said.
Nobody covers the Tigers year-round like PowerMizzou.com. If you are not yet a member, just try out our free seven-day trial
.