Lasting Legacy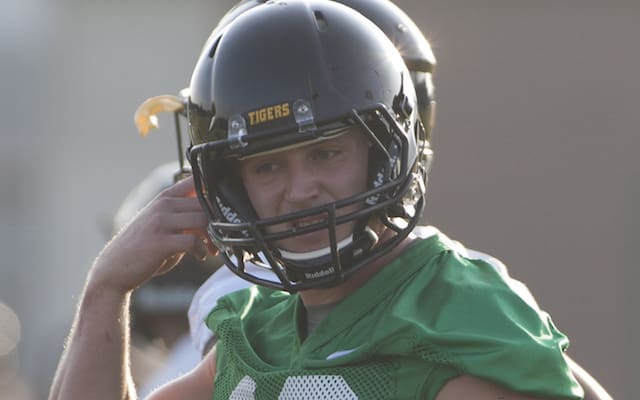 It was the end to a miserable year in Columbia. Beset by injuries and belittled in its first SEC season, the final death knell for Gary Pinkel's first non-bowl season since 2004 came on Kyle Field. The hangman, on this night, was soon-to-be Heisman winner Johnny Manziel, rolling for over 400 yards of total offense and combining for five touchdowns for Texas A&M.
Berkstresser was Manziel's foil in College Station. A redshirt freshman like Manziel, the former 3-star recruit (also like Manziel) from Lee's Summit, Mo., was forced into an unenviable situation that season. Injuries to James Franklin, Missouri's incumbent at quarterback, threw Berkstresser behind center. Injuries across the offensive line threw the defense at him in waves.
A 59-29 loss ended Missouri's season. It ended Berkstresser's starting career, in retrospect. His final pass as Missouri's starter was an interception by Floyd Raven at the Aggies' 9-yard line, with 2:15 remaining in the game.
Four years later, Berkstresser is still at Missouri. His career didn't end that night. It just changed course.
Berkstresser is a Missouri lifer in a family full of them.
His mother, Kim, is one of three daughters, all of whom went to Missouri for college. Kim and her older sister were both cheerleaders. Both of the children of Kim and Greg Berkstresser, Corbin and Morgan, attend Missouri.
Morgan, 16 1/2 months younger than Corbin, is a Golden Girl.
"It was kind of an assumed thing in our family," Kim says over the phone. "It wasn't, 'Where are you going?'. It was, 'You're going to Mizzou.' It was a statement."
Corbin became a prodigious talent in both football and baseball, and Missouri offered him as a quarterback while he was still a sophomore in high school. On June 18, 2009 - not yet a junior - Berkstresser committed to the Tigers.
Kim remembers her and Greg talking to their son after the offer. "Do you want to wait?," they asked. Even with their considerable ties to the school, they wanted to keep all the options on the table for their eldest.
"If that's where I want to go, I don't want to play games with these other coaches," Corbin said. "I'm not going to play the recruiting game, I'm not going to waste other people's money.
"If this is where I want to go, I'm going to make my decision."
He stayed true to his commitment for nearly two full years, until he signed with Missouri on the first Wednesday of February in 2011. In the meantime, he starred for Lee's Summit High School. He played quarterback and linebacker. As a senior, he threw for 3,382 yards, ran for 692 had had 48 total touchdowns. That included a 36-6 touchdown-to-interception ratio.
(His high school career ended against Lee's Summit West in the playoffs, losing to an
Evan Boehm
-led Titans' team, 42-39. Berkstresser injured his throwing hand early in the game, banging it off a teammate's helmet. It bled for much of the night, but he didn't miss a snap.)
"He's a competitor," Kim said. "Before he even took a step onto the MU football field, he made it known that he'll play anywhere to help the team. He said, 'I don't care. I'm a competitive person and I'll work anywhere to help the team.'"
He said that so often that someone - Kim wouldn't say whom - cautioned him against it. The advice was simple: "You're the quarterback. Don't say you'll play any position."
The aftermath of 2012 turned into a bright spot for Missouri.
The quarterback competition re-opened, only to be won by Franklin. Redshirt freshman
Maty Mauk
jumped Berkstresser on the depth chart. Missouri's offense, largely healthy in 2013, returned to form, and the Tigers went on to back-to-back SEC East championships.
Berkstresser became a forgotten man outside of the program.
"He's Mr. Positive," Kim said. "The one thing that he and our family learned really fast was to not read stuff. It's negativity first. That's life and that's football. You can't really blame anyone. And quarterbacks are at the position that's glorified or criticized. You either get a lot of praise or it's all your fault.
"He knew that going into it. He never complained about any situation."
"I wouldn't say it was hard to regroup," Berkstresser said. "Deep down, however many times I got hit, my stats weren't up to my standards, but the type of person I am, I'm able to take that. I'm the guy who's able to take that criticism probably better than some.
"I knew if there was anybody out there that would be able to take that season, if the season was going to go that way anyways, I had the shoulders, broad enough to be able to take that pressure and that criticism."
This is where Berkstresser's career diverges. The highly-touted prep quarterback, matured and perhaps hardened after 2012, changed course. He had opportunities to transfer, his mom says. He could have returned to baseball, a sport where he excelled and had the talent to continue in college.
"He's had chances to leave and he has always chosen not to," Kim said. "His mentality is, 'There's competition wherever you'd go. Why would I leave a program I'm happy with? It's not an easy road anywhere. There's no sure things. If I'm happy, why would I leave?
"'I'm not a quitter. I'm staying. This is where I want to be.'"
Berkstresser returned to the possibility of playing other positions. In one 2013 game - Georgia - he substituted in as a blocker on kick-off return. Soon thereafter, however, he tore his MCL and was lost for the year.
"We give him trouble," quarterbacks coach
Andy Hill
said. "Against Georgia, at Georgia a couple years ago, he got launched, and we were wearing white jerseys. He had grass stains from about five yards on the ground there."
"He always said he'll play where ever they want him to," Kim said. "It was never, 'I'm here to play quarterback and if not, I'll leave.' That was never on the table.'"
Now, Berkstresser is hoping to make his mark on special teams. He's working on kick return, kick coverage and even PATs, as a blocker.
"I just want to be on the field and do what I can to help the team," Berkstresser said. "Whatever it is. I like hitting people. I like being able to have a little contact. Just to be out there and do whatever I can to be relevant to the team…"
"I think he sees the big picture now," Kim said. "When you come in as a freshman, it's really just about football. But, now through his experiences. he sees there's more to life than that. It's about attitude and character."
Berkstresser's willingness to do whatever is needed for the team puts his future goal into perspective. After his college career his over - he'll graduate with a master's degree in May - he hopes to become a Navy SEAL.
"That's the plan," Berkstresser said. "That's the dream. Whatever God's plan is for me, I'll go for that."
It's a goal he's had for as long as his parents can remember. He's trying to make it a reality now. Every day, after football practice and workouts, Berkstresser trains by himself for two-to-three hours longer. He runs with a mask to limit his oxygen intake, his mother says. He swims, and works on holding his breath underwater for long periods of time.
"The way I look at it is you can always do more," Berkstresser said. "Right now with camp it's difficult to run as much as I want to, but during the summer I was up to running 30, 40 miles a week, swimming extra."
"He's kind of a maniac workout guy," Gary Pinkel said.
He's spoken to recruiters at the Navy, and reached out for advice and help from others who have entered the program. He also has talked to former Missouri quarterback Jimmy Costello, who became an Army Ranger after his college career.
It's a singular, focused effort. It's one that Berkstresser himself doesn't like to talk about. His parents remind him that it may not work out. He has to get LASIK surgery to correct his vision. He's already been asked about the knee surgery, to make sure he doesn't have any metal plates in his leg because they would have to be removed.
But every time his parents bring up the possibility of a back-up plan, of looking for other careers that pay good money, he responds: "It's going to work."
"It's not about money," Berkstresser said to his mother. "It's about doing something that I have a passion for and it's meaningful in life. Going to work, punching numbers or trying to sell a product is not something for me at this point in my life. I want to go out and I want to fight for my country and if that means I die for my country, so be it.
"That's my purpose right now."
Berkstresser told reporters it's about "making a difference in the world."
"You don't make a lot of money, but you make a difference," he said. "You'll be relevant in the scheme of life and do something special."
Fans may not remember Berkstresser's legacy on the field, but off of it, he's already made a lasting impact in the football program.
Sources told
PowerMizzou.com
that it was Berkstresser who suggested that
Marvin Zanders
move above him on the depth chart in the spring. Berkstresser denied he had any part in that decision. When asked, back-up quarterback
Eddie Printz
said, "No comment."
Kim, however, offered a bit more clarity on the situation.
"He wanted to give everyone a benefit, and he felt he'd already been given a chance," she said. "He didn't think his role on the team was going to be for quarterback, and his goal, his job, was to make everyone better."
Now, freshman
Drew Lock
- who followed Berkstresser at Lee's Summit - has jumped Berkstresser on the depth chart. But his mother says Corbin couldn't be happier for Lock:
"He's doing so great," Corbin told his parents about Lock after his impressive debut scrimmage.
That's who Corbin Berkstresser is.There are three constants in life - death, taxes and quarterback transfers. He took his lumps in 2012, and instead of moving on or fading away, he pivoted. He's known as a consummate leader in the program. His importance may not be evident on Faurot Field on Sep. 5, but it's widely known within the program.
"Corbin Berkstresser is the man," Hill said. "He's done a fabulous job of taking care of the young guys, knowing what to do. He's in there probably working out right now, doing push ups and sit ups. He's a special guy and we need guys like that to help our football team win."
(Hill has also tasked Berkstresser with protecting his daughter, a new freshman at Missouri: "You might think he's a piece of carpet, but you'll see a red dot on kids' foreheads walking down that hallway. He's ready.")
He'll do whatever it takes to help his team, help his family, help his friends. That's what he wants his legacy to be.
"You talk about a great person," Pinkel said. "A real competitor, and a guy that loves this program and loves the team … It says a lot about him.
"Your locker room is significantly (better) with him just walking around in there. He's such a team player and does everything the right way. He's a great, great kid and he's very important for our team, too."
Berkstresser's career didn't play out the way he thought when he committed to Missouri in 2009. But that's life. Nothing plays out the way you want it to. What determines your relevance - a word Berkstresser uses often - is how you adapt to change. It's evolution, and Berkstresser is a case-study in adapting and overcoming.
"I'm a firm believer that hard work pays off in the end," Kim said. "You'll be repaid, somehow. Maybe not on the football field, but you will be repaid."

Click
Here
to view this Link.