Locked Down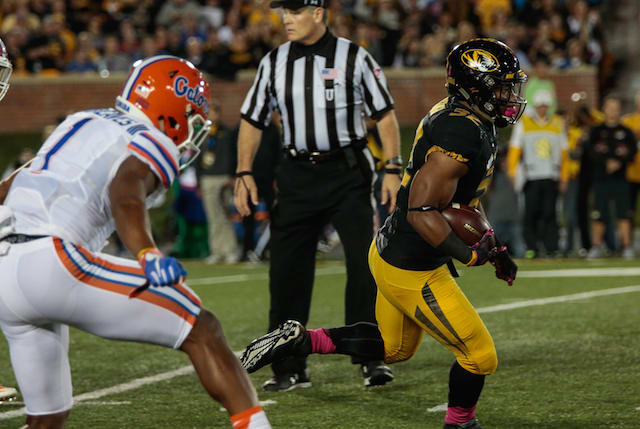 Last Saturday, it seemed for all the world as if a quarterback shakeup had breathed some life into the dormant Missouri offense. Last Saturday sure seems like a long time ago.

"That's a good question. It's a tough one," Boehm said. "We have to find something and we have to find something quick."
"Certainly we've got to play better around him and that will help him play better."

"I thought I could get it by him," Lock said. "Beating myself up because I truly think I can make every throw on the field when I need to."

He didn't make many of them on Saturday night. This is not to lay all the blame for Saturday's most recent edition of Sleepwalking on Offense at the feet of the freshman. In fact, it's quite the opposite. For anyone that had thoughts a change at one position was all it would take to kickstart the offense, Saturday night served as a rude reality check. The Tigers' problems go much deeper than any one spot.
The offensive line allowed Lock to be sacked three times and hit countless others. Even some of his X completions came while he was on the run.

"It's awful," Boehm said. "You never want to pick up your quarterback that many times in a game. You never want to pick up your quarterback period."
Lock's receivers weren't open all that much. When they were, mostly they caught the ball. But separation was rare and there appeared to be miscommunication between the receivers and the new quarterback a few times throughout the night.
The little cracks combined to form an impassible crevasse on Saturday. Florida is perhaps not a fair test for a struggling offense, especially one led by a quarterback who had thrown 53 passes in college before the game began. The Gators have a suffocating defense and perhaps the best secondary in college football.
"It was complicated," Lock said of the defense. "It was a little different than I've ever seen."
"They have a great front seven. They have a dominant front seven," Boehm said. "We have to be ready for that kind of defensive line. We play in a great, great conference and if we play like that, we aren't going to be very good."
Not every Tiger was quite as impressed.

"They were all right," Moore said. "I wouldn't pump them up too much."

If Florida's defense was just "all right," the Tigers offensive problems may run even deeper than they appear. Regardless it's time for Mizzou to reevaluate its possibilities for the 2015 season.
Gone are any realistic hopes of a third consecutive trip to Atlanta. Florida would have to drop three of its four remaining conference games while the Tigers ran the table. The goals are simpler for the rest of this season: Get to a bowl game and see some progress on offense. Lock has a simpler goal: Move on to his third college start.
"Right as I walk out of here I'm going to try to forget about it," he said. "Until Monday, when you all bring it up again. Then I'll forget about it again."

After a game like that, there's not much else to do.