Media Day Notebook: Week 8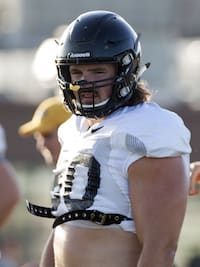 INJURY UPDATES AND DEPTH CHANGES: After two losses in a row where Missouri (4-3, 1-3 SEC) could muster just three field goals total, file this in the Silver Linings Department:
"Injury-wise, we don't have any right now," Missouri coach
Gary Pinkel
said. "We're in pretty good shape right now."
It seems the only still-lingering injury is that to right tackle
Nate Crawford
, who suffered a high-ankle sprain against Kentucky, missed the South Carolina game and has been limited to a rotation with
Taylor Chappell
over the past two games. Crawford, however, remains on top of the depth chart at his position.
There's only one official depth-chart change. At X-receiver, freshman
Emanuel Hall
is now listed as even with redshirt sophomore
J'Mon Moore
. After catching 15 passes over the first five games - and 11 in the first three - Moore has been limited to one catch in the last two. That one, a 32-yard reception, came on the first series of the game against Florida.
Hall also has just one catch in the last two games, and he has three for 25 yards over the season, but the staff has been impressed with his play.
"He's got great speed and he's getting better each and every week," Pinkel said. "He's getting more opportunities the more we go. He's a good athlete, he can run. It's just about getting him the reps. It's all about repetition and doing things over and over and over again."
"He's pretty explosive," receivers coach
Pat Washington
said. "I don't know if you guys really just watched the game, watched him running out there on the field, he can run. He can run well. Hopefully, his speed and now he's understanding - a lot of the young guys, when they don't know what to do, they don't play as fast, but now he's beginning to play fast, practice fast, so he's beginning to understand what to do.
"I just really believe he's going to contribute to the team this year and help us win games, I really do."
MORE CHANGES ON THE WAY?: Hall's movement to co-starter is the only official change on the depth chart, but according to Pinkel, more could be coming to the offenses' most criticized area - the offensive line.
"We're looking a little bit at moving, maybe switching some guys up position-wise," Pinkel said. "Possibly. Not a full-scale, all of a sudden guys are, we also have Evan (Boehm) playing tackle - that's not going to happen. I don't mean that.
"But we're looking right now, and we haven't finalized what we're going to do but we possible will move a couple guys there, try to help ourselves. You've got to watch what you do, but that's something that we're looking at."
I'll have a full story on this in the morning, but it appears that the two most likely switches are either
Connor McGovern
from left tackle to one of the guard spots, or
Evan Boehm
from center to one of the guard spots. Just looking from the outside in, there are pros and cons to each move, but Boehm to guard - ostensibly left guard - would mean
Alec Abeln
would become the center, and Abeln has plenty of playing time this year at guard and is the team's No. 2-center in practice.
McGovern to guard - again, most likely to left guard - would mean that Missouri would have to find a new left tackle, most likely either
Paul Adams
or
Malik Cuellar
. However, offensive line coach
A.J. Ricker
said Nate Crawford has the ability to play left tackle, which means
Taylor Chappell
- who has played plenty this year - could take over right tackle.
Whatever happens, the staff says that nothing will be decided for practice this week until Tuesday. The players said they were alerted of possible movement on Sunday, but have not been told which moves could be in the work.
KEY PLAYS REVIEWED BY THE SEC:
Pinkel said, among the plays they sent into the SEC for review, were the non kick-catch interference on
Cam Hilton
and the pass interference call on
Aarion Penton
.
"They came back and said that it was interference on the punt return, on Hilton," Pinkel said, "and also the pass interference should not have been called. They were real critical plays, but what I tell my football team is you've got to overcome them. We didn't do that."
Critical plays, they certainly were. Hilton went to field a punt at Missouri's 43-yard line, he was hit simultaneously by a Georgia defender. The ball was recovered by Malkolm Parrish, and Georgia drove to Missouri's seven-yard line before settling for a game-tying field goal with 33 seconds left in the third quarter.
Penton's pass interference came on a first-and-10 from Missouri's 39 in the fourth quarter, and although he did seem to body Georgia's
Malcolm Mitchell
, the pass appeared to be uncatchable. But the interference was called, the ball moved to Missouri's 24-yard line. Georgia only gained eight yards over the next three plays, but another field goal provided the winning points for the Bulldogs.
Penton and Hilton were both coached by Missouri's sports information department before answering questions about the SEC's review, but both thought the call (and non-call) were incorrect at the time.
CONCERNS ABOUT LOCK?:
Missouri freshman quarterback
Drew Lock
has been hit, and hit often, in the past two games. He was sacked four times against Georgia (albeit one was when he stepped out-of-bounds on an attempt) and he was sacked three times and hit 13 times total.
I asked Pinkel after the game if there were concerns about rattling Lock too early in his career.
"My big things with quarterbacks is are they in control?," Pinkel said on Saturday. "Are they emotionally in control? Andy (Hill) keeps me informed of that, but he seems fine.
"It's a lot to put on his back, but that's the job. Hard lesson to learn as a young player, but bottom-line, that's the responsibility."
On Monday,
Andy Hill
said there's little concern about Lock's long-term confidence because of what's transpired the past two weeks.
"You think maybe after a half or after a series or whatever that you go back out there, but he's totally engaged on the sideline," Hill said. "I think his demeanor does allow him to kind of move on to the next series and looking to make the next play, which has been a struggle, obviously."
Evan Boehm said Lock is capable of handling what's been thrown at him.
"His dad was an offensive linemen, so I think he knows how to take a hit every once in a while," Boehm said. "I think Drew's always positive, and Drew's poise back there is unbelievable. He's doing a great job with handling all this stuff. I give him a lot of credit with what he's been doing. I went up to him after the game and apologized to him because of what happened. I put that on the offensive line, and Coach Ricker might say something about how it's fault in coaching, but it's really my fault as a leader, to not get these other guys prepared and these other guys ready."
Lock said that "a couple of times" he's perceived pressure that wasn't there because of those hits.
"But, at the same time, I think it's also helping me learn a little bit," Lock said. "I've got to get the ball out quick. A couple times in the game, I could have gotten rid of the ball, but I held onto it a little too long, tried to step up maybe make a play, when really I could just get another down without losing yards."
Lock said he gets advice from his dad on certain situations, but his harshest critic may be his mom.
"I got a text from my mom talking about how I was 0-for-6 to start the second half," Lock said, smiling. "Thanks, mom. I watched the film. You know what? That's the good thing about my mom. She'll let me know when I'm wrong. Hopefully, I'll do better for her."
Lock did say that the text was in jest.
"There was maybe a wink on there," Lock said, laughing.
NOTES AND QUOTES:
Missouri receiver
Raymond Wingo
didn't play any offensive snaps on Saturday. Pat Washington said it was because Missouri ran 20 fewer plays than it was averaging: "You're 20 below your average, probably not going to do everything you wanted to do in a game," Washington said.
Washington was also asked about
J'Mon Moore
's out-of-bounds catch on the last offensive play of the game for Missouri: "He was running full speed and he wasn't able to control his feet at the end. He was just trying to secure the catch. I watched the video. It was close, but he was running full speed and wasn't able to get his feet. I wish he would have, would have kept the drive alive."
Evan Boehm, on what's left on the table for Missouri: "We're out of the championship race now, and we know that, but at the same time, we can still make a really good bowl game and 10-3 is not going to be a bad record to finish off the season with. But, becoming 10-3, you have to go out there and you have to accomplish everything that you need to accomplish, and that starts this week with Vanderbilt."
Offensive coordinator
Josh Henson
, with no context of the question needed: "Are you asking me if we average 20 points a game, we'd be 7-0 right now? Hell yeah, I get it. Yeah, I understand it. And it's frustrating. It sucks. So we've got to get it fixed."