Missouri Football Notebook: Defense looking to capitalize on week four play
Entering week five, Missouri (2-2) will have a massive chip on its shoulder after falling to Auburn in devastating fashion on the road in week four. Georgia (4-0), the No. 1 team in the nation, will be looking to continue its dominance following its national championship win in January.
This will be the 11th meeting between the schools with the Bulldogs entering the contest with a 10-1 record. Missouri's lone win came in 2013.
Since 2016, when Kirby Smart took over for Mark Richt, the Bulldogs are 67-15 overall and have won their last eight road games with their last road loss being to Alabama in week four of the 2020 season. Missouri coach Eli Drinkwitz said that the Tigers will need the fans to come out and show their support versus the reigning national champions on Saturday.
"Going to need the best home-field advantage in college football. ... I really would love for our student section to be as loud and as awesome as they were versus Louisiana Tech," Drinkwitz said. "What a great atmosphere that was and a great way to put on display what the University of Missouri football program is all about."
Luther Burden III injury update and expectations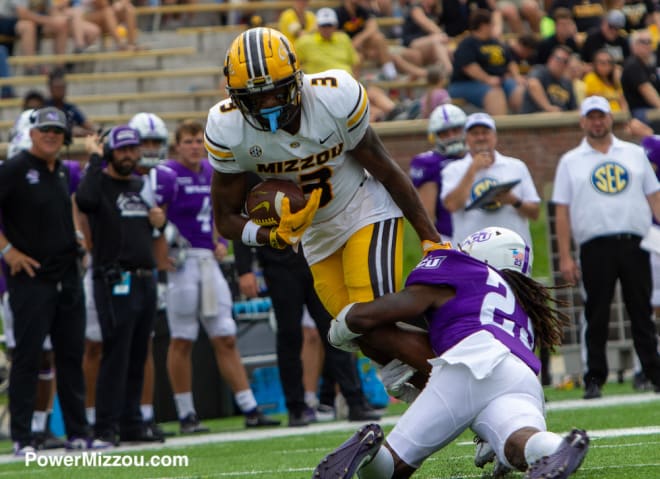 Wide receiver Luther Burden III didn't have the best day against Saturday. He had no rushes or receptions and only had three targets on offense (with one being intercepted). This comes a week after having a career day versus Abilene Christian 13 touches (six receptions for 58 yards, four punts for 111 yards and a touchdown and three carries for eight yards). It was the second time in Missouri's last three games where Burden was targeted three times or less (week two against Kansas State he had two targets).
Not getting the ball wasn't the only thing that didn't go the former five-star East St. Louis product's way. He also suffered an undisclosed injury in the second series of the game against Auburn. Drinkwitz said on Tuesday that Burden is questionable versus Georgia.
"Really proud of the toughness he (Burden) showed in the third and fourth quarter trying to give it a go and doing what he could for our team. In fact, he was not supposed to do anything but fair catch the punts," Drinkwitz said. "But in the fourth quarter, he was trying to provide a spark and decided to return that one. But our priority is getting him healthy and doing the very best we can for him."
On Tuesday, when answering a question about Dominic Lovett's elevated production in his sophomore campaign, Drinkwitz said he's learned from trying to give Lovett more than he could handle last season, indirectly saying that expectations for Burden needed to be tempered since success doesn't happen instantly all the time with some players.
"I felt like I tried to do too much too soon with him (Lovett). Moved him around too much and didn't really let him develop and settle in," Drinkwitz said. "I think you got to trust the process. There is a process to be great. Just because you have the ability doesn't mean it just is going to happen overnight.
"And so, let's let people grow. Let's not put undue expectations on people let's let people grow. Eighteen-year-old people still have maturing to do and growth to do. Let's just celebrate what they're doing that's really good."
Lovett, is the conference leader in receiving yards (376) and is leading the Tigers in receptions (21) and yards per catch (17.9) through four games. Lovett had 26 receptions for 173 yards and no touchdowns in 2021.
This season, Burden is third on the team in receptions (10), receiving yards (78) and yards per catch (7.8). He also has seven carries for 41 yards and a rushing touchdown.
Burden was dressed in his practice uniform on Tuesday, but did not participate much (from what we could see).

It is notable that on Sunday, Burden washed his social media of all things Mizzou-related, and put on his Instagram story "patiently waiting."
Burden hasn't added anything Missouri-related back to his bios but did tweet out for "Mizzou fans: Please don't misunderstand my intentions. I'm always a TIGER! Just be patient, here we come!"
Building off the defense's dominance in week four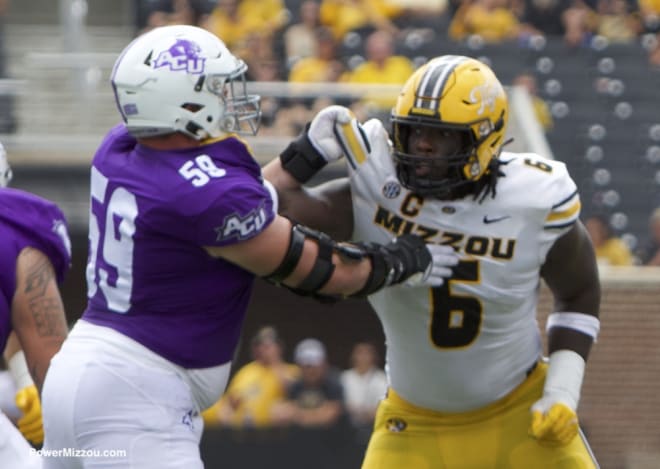 The Tigers' defense played its best defensive game of the season.
It was actually their best defensive performance since their week seven 2020 game versus Vanderbilt when the Tigers defeated the Commodores 41-0 and held them to 196 total yards.
After giving up back-to-back touchdowns to Auburn on its first two defensive possessions, Mizzou nearly pitched a shutout and didn't allow any points until an overtime field goal. They allowed 83 yards in the first quarter before limiting Auburn to 134 yards in the rest of regulation and overtime.
"Our defense went out there and held them to 1.8 yards rushing (after giving up 14 points) and never flinched," Drinkwitz said.
"I was really proud of the way our guys competed. ... We get teams behind the chains and then create turnovers or force them into a mistake," said Missouri defensive coordinator Blake Baker. "So, I was very happy to see that happen on Saturday."
Ten players recorded three tackles or more and the team racked up 12 tackles for loss. The defense recorded 13 tackles for loss in its first three games combined. Ty'Ron Hopper, who has had five tackles or more in each game this season and has been the team's leading tackler in three of the four, had 10 tackles, three tackles for loss and a sack against Auburn.
Defensive tackle Kristian Williams, who had four tackles and a tackle for loss in his own right said the defensive line is fortunate to have players like Hopper play behind them on defense.
"It's definitely a blessing knowing that those guys (Hopper and Chad Bailey) will take care of everything we don't pick up on," Williams said. "They display that throughout practice and bring out the energy just being the leaders of the defense."
Williams, who made his second straight start, has quickly emerged as one of the team's most productive defensive tackles.
"He's a stud. I mean you're not going to find a nicer guy. When you have a bad day just run into Kristian Williams and he'll cheer you up," Baker said. "When he gets in between those lines he's a monster, and I've been impressed with him from his leadership to his play on the field to his character off of the field. He's been a great addition to us."
From the second quarter until the end of the game, Mizzou forced Auburn to punt eight times, miss a field goal attempt and turn the ball over on downs before allowing the aforementioned go-ahead field goal in overtime. The Tigers will have to replicate that success if they have any hopes of stopping Georgia's offense.
The Bulldogs rank in the top 10 of the FBS in total offense (531.5 yards per game, fourth-best), third down percentage (.591, fifth), sacks allowed (two, sixth), first down offense (110 first downs on first down/seventh) and passing yards per game (350.5/eighth-best).
Chad Bailey injury update  
Speaking of Bailey, he left Jordan-Hare Stadium in a harness and is questionable versus Georgia.
Bailey is Mizzou's MIKE linebacker which means he's the one relaying the plays to the defense and making sure everyone is set defensively.
Bailey had been one of the Tigers' best defensive players through the first three weeks of the season with PFF College giving him a top-five grade for total defense and coverage. In week three, he had the best total defensive grade at 79.8 and the best coverage grade of 90.8 on Missouri's defense.
This season, Bailey has racked up 15 tackles, two pass deflections, 1.5 tackles for loss, a forced fumble and a fumble recovery.
Redshirt freshman Dameon Wilson took over at the position when Bailey left the game and produced three tackles in 35 snaps in week four.
"I thought he answered the bell. Up until last week, he hasn't played many snaps for us, but I thought he did a great job calling the defense and making plays when they presented themselves," Baker said. "I was really impressed with him."
Wilson was Mizzou's sixth-highest rated defender for week four with a total defensive grade of 72.1. He graded in the top-five in tackling (77.2 third-best), run defense (74.2, fifth) and coverage (64.2, fifth).