Nature and nurture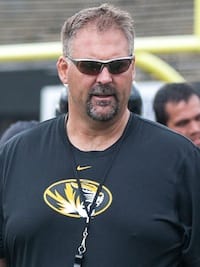 Missouri's defensive line is pacing the SEC's most ferocious pass rush, and behind it stands a mountain of a man who prefers the shade.
Craig Kuligowski is the coach behind 22 of Missouri's 23 sacks. He's the man behind 39 of 54 tackles-for-loss. But if he's asked about who deserves the credit, he stays just like that.
In the shadows, behind it all. He defers credit to the experience across the line. He defers credit to the offense and, by proxy, to opposing teams.
"We had so many experienced guys coming back and they're doing what they're supposed to be doing," Kuligowski said. "The offense is getting us the early lead in almost every game we've been in, so that gives us the opportunity for more pass rushing when they're trying to catch up, so sometimes your numbers go up, and sacks, because of that."
If this were a one-time thing, that would be believable. But Kuligowski's record of placing defensive linemen into the NFL is well-known and well-discussed. So now the narrative shifts, in this season and in Kuligowski's career arc.
Is it recruiting or is it development? Is it nature or nurture?
Kuligowski played offensive tackle for Toledo in the late 1980s. He caught on with Gary Pinkel's coaching staff a few years later, first as a recruiting coordinator, then tight ends coach before adding assistant offensive line coach to his title before the 1994 season. Before the 1996 season began, Dave Steckel left Toledo for Rutgers, vacating a defensive line coaching position.
"I asked Coach Pinkel if I could coach defensive line," Kuligowski said.
In retrospect, such a casual re-telling of his move to the defensive side of the ball adds some amount of humor to one of the most important decisions of Pinkel's career. Seventeen seasons later, 17 of Kuligowski's players at Missouri have won at least honorable mention all-conference honors. Ten have won at least second-team honors. Six have been drafted, three in the first round, and four still play on Sundays.
The credentials are there. But, again, the nature vs. nurture comes in. In talking to the current staff and players, Kuligowski's success with defensive linemen is a mixture of both, with each aspect -- recruiting and development -- taking equal importance.
A big part of that is because of Kuligowski's resumé. It helps in recruiting.
"We sell Craig Kuligowski, 'Coach Kool', as a coach," Pinkel said. "People are aware of it and they know the history, and that's very, very positive, that he does a great job."
This season, Missouri is seeing more results because of that awareness. This weekend, three-star Fort Pierce (Fla.) linebacker/ defensive end
Sharieff Rhaheed
is visiting Columbia. He has offers from Alabama and Arkansas, among others, and was at one time committed to LSU.
One of the biggest reasons that Missouri is under consideration?
Coach Kool.
"He coached my favorite player, Aldon Smith, and I know he's a good coach," Rhaheed said.
If it were all recruiting for the success of Kuligowski, though, Missouri would sign more nationally-ranked recruits at the positions. While the Tigers have done well with under-the-radar recruits -- "We don't look at stars or anything. We just look what we look for," Pinkel said -- they've still offered those four and five star recruits, and largely struck out, save for
Sheldon Richardson
.
That's where nurture comes in, and that's where Missouri's current players say Kuligowski excels.
"
Michael Sam
isn't out there running the drills," offensive tackle
Justin Britt
said. "He's a coach for a reason. Who would have known that Michael Sam would have come out and done that this year?
"He's a good coach and he just finds a way to make it happen, but it's not just happening with Michael Sam.
Markus Golden
, he's turning him into a really good player.
Kony Ealy
, of course, has been a really good player.
Shane Ray
, he's got that speed. He just finds what works with each player and then I think he just finds ways to input that into the game."
Missouri's offensive line is a good place to start when talking about the defensive line, because no one goes against each other more. And, one viewing of practice shows that the one-on-one match-ups don't always end in begrudging respect.
So when the Tigers' offensive line is effusive in its praise for its counterparts, as it's been nearly all season, it's true.
"Coach Kool, he's a smart, smart defensive line coach," center
Evan Boehm
said. "He handles the defensive line the perfect way you need to handle the defensive line."
His defensive linemen say that it's Kuligowski's personality, not just his history, that makes them want to play for him.
"He's full of energy and passion about the game," Ealy said. "A great mentor, like a secondary father. He's not going to tell you anything wrong. He's not going to tell you anything to make you mad or hurt your feelings. He's going to tell you what you need to know so you can better yourself.
"He's made my stay here a lot easier, when I've been hard-headed and didn't listen. What he says and what he brings to the table is true. If you listen to him and follow what he says, you find yourself having a lot of success."
"Most meeting rooms, they're all sit up, serious,"
Lucas Vincent
said. "Our meeting room's not like that. It's actually fun. He lets us be ourselves in there. He lets us have fun and everything, and it makes us want to go out there and work."
That fun is carrying over onto the field, and no one is having a better time than Missouri's defensive line this season. Kuligowski, the man behind the line, is the puppet master, pulling the strings for a deep, varied assortment of linemen. All along, he's had successful players, but sometimes, things just come together in one season.
That's happening now. Missouri's defensive line seems to be the big reason why the reputation for Missouri has shifted from skill positions, from the offense, to the trenches. And while it's another line in Kuligowski's resumé, another flyer to send to recruits, perhaps another oversized portrait painted on the wall of Missouri's athletic center, Kuligowski is just focused on this team and this game and this season.
"I'd like to be a (head) coach someday, but I just want to do the best job at what I'm doing right now," Kuligowski said.
Through seven games, no one can disagree with that.