Odom Returning to Mizzou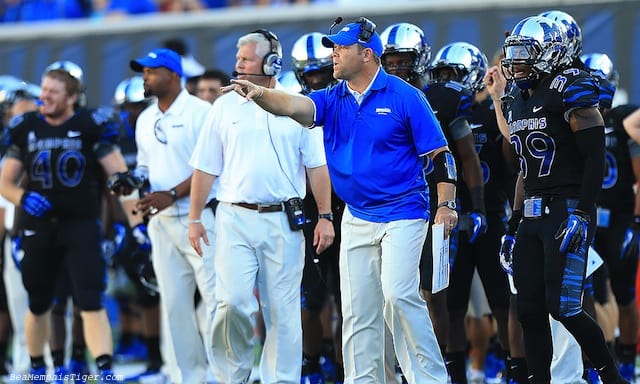 Barry Odom
is returning to Missouri.
PowerMizzou.com
has learned through a source that the former Tiger linebacker and assistant coach will be announced as Mizzou's next defensive coordinator in the next 24 hours.
Dave Steckel
officially accepted the head coaching job at Missouri State on Sunday, December 14th. Speculation immediately focused on Odom, the defensive coordinator at Memphis for the last three seasons, if
Gary Pinkel
chose to go outside his current staff to fill the vacancy. By last Monday night,
PowerMizzou.com
had reported that Odom was the frontrunner and has now learned that the deal is done. An announcement is expected from Mizzou on Tuesday.
Odom, a native of Maysville, OK, played linebacker at Mizzou under Larry Smith from 1996-99. When his career was over, he ranked fifth on the school's all-time tackle list with 362 stops. He spent time after graduation working as an intern for the Tiger Scholarship Fund then began his coaching career as an assistant at Ada (OK) High School. Odom then coached Rock Bridge (MO) High School for two years before being hired at Mizzou as a graduate assistant. After stints as the director of recruiting and the director of football operations, he became a full-time assistant coach following the 2008 season. He coached Missouri's safeties for three seasons.
Odom was hired by Memphis in 2012 as the defensive coordinator on Justin Fuente's staff. In just three seasons, the Tigers improved from 117th to 22nd in total defense. In the last season before Odom took over the defense, Memphis allowed 35.1 points per game and 6.64 yards per play. This year, those numbers were 17.1 points per game and 4.75 yards per play. The Tigers finished 5th in the country in scoring defense, tied for 48th in passing defense and 24th against the run.

Memphis finished the season 9-3 and finished in a three-way tie for the American Athletic Conference championship, along with Cincinnati and UCF. The Tigers beat Brigham Young 55-48 in double overtime in the Miami Beach Bowl on Monday afternoon to complete their first ten-win season since 1938.
Reports had linked Odom to potential job openings at Texas Tech, Texas A&M, Colorado, Florida, South Carolina, Mississippi State and North Carolina prior to his decision to return to his alma mater. Details of his contract are not available at this time.
UPDATED AT 10:04 A.M.: Missouri has confirmed the hire of Odom as the defensive coordinator. Here are statements from both Odom and head coach Gary Pinkel, as released by the school.
Pinkel: "We're really excited to have Barry and his family back at Mizzou. He's done an outstanding job at Memphis these past three years. He's coached with us before, and it's great to see someone professionally advance himself and go do such a great job elsewhere. I know he was sought after by several other power five schools recently, so we feel very fortunate to have him with us."
Odom: "It goes without saying how excited I am to have this opportunity. I have such a deep respect for the success that Coach Pinkel and his staff have had since I've been away. Transitioning to a new conference is very challenging, and all they've done is get better at everything. When you look nationally at winning percentage, APR, graduation rates, Mizzou is the total package and it's absolutely one of the top football programs and athletic departments in the country. I'm excited to do my part to continue to add to that, and our family is excited to be part of it again.
"It's always tough to leave a place that's been as good to me as Memphis has, and I can't thank Coach (Justin) Fuente enough for the opportunity he provided for me. Being a part of this building process for the last three years has made me a better coach, and I'm proud to know that it's in better shape now than what we came into."