Pinkel: I rocked their lives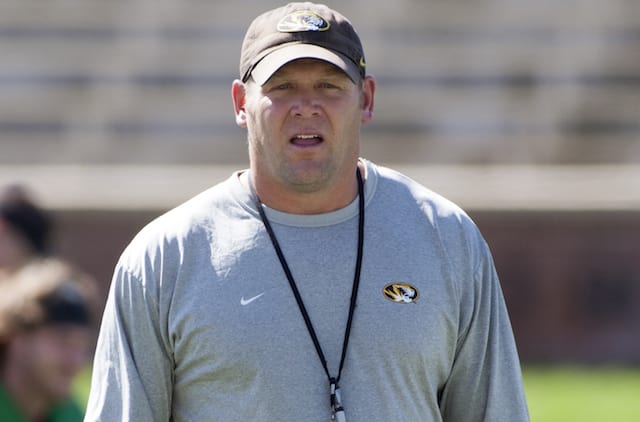 At the most hectic of times in a game, there is Pinkel, arms crossed, wearing his visor, on the sidelines. When fans are screaming for players to be benched and for the scalps of his staff, there is Pinkel, standing by his guys. For 15 years, Gary Pinkel and Mizzou have been stable.
"In a very, very insecure business, you get about as much security as you can have being in our football program," Pinkel said. "I think that's why I've kept guys here for a long period of time, that's why we've attracted some really good young coaches."

In a 15-minute meeting on Friday afternoon, that stability was blown apart. Pinkel even referred to his retirement announcement on Friday as "the bomb that went off."
Pinkel had hoped to meet with his coaches on Sunday to inform them he had cancer and was stepping down. His plan was then to inform the team after talking to his staff. As word started to leak, Pinkel called the entire team into a 2:30 meeting moments before they would board a bus for Kansas City to face BYU the next day and leveled them with the news.
"When you do what I did, you rock the world of all your coaches," Pinkel said. "I rocked their life. When people get fired that's what happens, there's generally some preparation for that. I walked in and this is what I'm gonna do and there was no other way to do it, but I'm very sensitive to that. It's unfortunate."

"I've been through this professionally, not that I've been coaching for 100 years, I'm not saying that, but I've been on this kind of transition where at least you've got time to go home and talk to your family kind of a 'Look, it's over' kind of deal," Ricker said. "I had to make a phone call to my wife, which is tough. But like I said, you get in this profession knowing this could happen."

So with two games left in the season--three if the Tigers qualify for a bowl--the assistant coaches now do not know where they'll be coaching next year.

"My wife went to school here, we've been pretty fortunate to stay here the whole time. You have to look at the positive too. It's been 20 years of pretty good stuff," Hill said, also mentioning colleagues who have moved six or seven times in the same time frame. "You've got to be open to all options."
Missouri is only guaranteed 11 more days in this season. If they win one of the final two games, the Tigers would earn a bowl bid and extend the year by a few weeks. And that, the coaches say, is their primary focus.
"It's easy. As a football coach, you compartmentalize. You play a week at a time, you box it up, you go to the next one. You're still competitive," Hill said. "Whether it's two games or 102 games or whatever a guy has left, wherever you're coaching, you're going to be competitive. I don't think that changes anywhere. It's pretty easy for our coaching staff to want to go compete and put our guys in the best spot to win."

Realistically, the staff has no other choice. In the end, it comes back to sport's most tried and true cliche: One game at a time.
"You can't worry about things that you have no control over," Walters said. "People will get hired and there will be job placement at the end of the season. There's no point in my focus or my family's focus to be on anything but Tennessee right now."