Powered Up: Sorry to say so long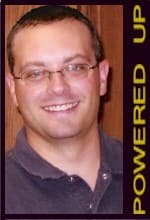 Ten years ago, it would have been music to a Missouri fan's ears to hear that the Tigers wouldn't have to play Nebraska every year. The Huskers are going to the Big Ten? Thank the Lord!
But now, on the cusp of one of the biggest games (the biggest?) ever between the two teams, I have only one emotion: I'm bummed out.
This isn't sour grapes about the Huskers getting the nod from the Big Ten that many of us thought was going to be handed to Mizzou. I'm over that. In fact, my feelings were never hurt to begin with. There are a lot of reasons Nebraska makes a lot of sense for a conference that wants to expand. So the Huskers head to the Big Ten and Mizzou hangs around in a Big XII that is dominated by Texas in the headlines and the banks if not on the football field or the basketball court. Not a problem.
No, this isn't sour grapes. It's just sadness. This rivalry is finally good. It finally means something. If Missouri can pull off the win in Lincoln on Saturday,
Gary Pinkel
will finish his Mizzou career with a .500 record against Nebraska. The last Tiger coach who could say that? Dan Devine went 8-and-5 from 1958 to 1970. Al Onofrio was the last Missouri coach to have two wins in Lincoln, something that Pinkel can achieve with a W on Saturday.
I made an argument that became Nebraska message board fodder prior to the Tigers' win over the Huskers in 2007 that Missouri had drawn even with Nebraska as a program. Obviously, I didn't mean historically. The Tigers have about 50 years to go to have any chance of doing that. I just meant in the current landscape. And I think it's an argument you can support. Missouri has beaten Nebraska four times in the last 31 years. But the Tigers have also won four of the last seven times the two have played.
Some of the greatest Missouri moments have come against the Huskers. You've got James Wilder in Lincoln in 1978. The kicked ball game, which I have always said, if you didn't care which team won, might be the single greatest football game I've ever seen in person. The 2003 win, Missouri's first in a quarter century. The 2007 beatdown on national television. The 2008 romp in Lincoln.
But this hasn't been a one-sided deal in the last ten years either. There was Eric Crouch's Heisman-winning 95-yard touchdown run. There was Nebraska derailing Missouri's 2004 and 2006 division title hopes with wins in Lincoln. There was Ndamakong Suh rolling Blaine Gabbert's ankle and destroying Missouri's season in 2009.
This series has had some monumental moments in the last decade. It has become the biggest game on the schedule for both teams every year. I know Nebraska would say the Texas game was its biggest this year. But it wasn't. Ever. The Huskers still have a chance to win the North, the conference and maybe more after they lost to Texas. They won't have a chance at any of those if they lose to Missouri.
From the Tiger point of view, this is THE rivalry. I know many true fans of the black and gold will maintain that Kansas is the only rivalry that should top this list. I think they're wrong. Which game has mattered more and mattered more often? In the last 40 years, Missouri and Kansas have played one game that really mattered. Missouri and Nebraska have played at least five this decade. The winner of this game has won the North four years in a row. Saturday will make it five.
In about two months, Nebraska becomes completely and totally irrelevant in my world. It's not an insult. I just don't care about Big Ten football. I don't get paid to follow it and I nearly never watch it. I may check out the Huskers with a bit of curiosity to see how they do in their new league, but I won't schedule my Saturdays around it like I did to watch Nebraska and Oklahoma State last weekend. It just won't much matter.
This is a great rivalry. The Missouri players openly admitted the "hate" (their word, not mine) between these programs. You have a quarterback and a right tackle (
Blaine Gabbert
and
Dan Hoch
) who spurned Husker commitments to come to Missouri in 2007 leading the Tigers into a game in Lincoln where they're playing for a possible shot at a national title. You have three Show-Me State natives, at least one on each side of the ball, (
Keith Williams
,
Mike McNeill
and
Will Compton
) hoping to stick it to their home-state school one last time before building new rivalries with Iowa and Penn State.
Great rivalries aren't built on respect and mutual admiration. They're built on hate and a desire to see the other team lose almost as much as you want your own to win. Finally, in the last seven years, Missouri and Nebraska have reached that point. And, now, just when it was getting good, it's over.
It would be like pulling Lost off the air right when Ben Linus showed up. The Huskers have a foil. The sleeping giant woke up and decided to fight back against the bully. And it's been a fun fight to watch for the last few years. Now, it's over without a decision. And that sucks.
Nobody covers the Tigers year-round like PowerMizzou.com. If you are not yet a member, just try out our free trial.