Pro Day Notebook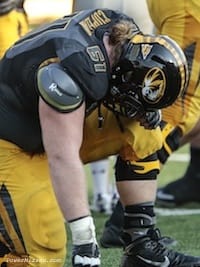 Missouri's pro day spanned the spectrum of NFL hopefuls. There were the proven commodities looking to remind the scouts what had drawn their attention. There were those putting their games on display for the first time. And there were the longshots looking to catch someone's eye and get a chance.
ON THE CLOCK--Kony Ealy is most certainly in the first category. Most mock drafts have Ealy going among the first 32 picks, the latest in Missouri's recent run of first-round picks.


"Very important," Ealy said. "Just keep our tradition here and go out and represent Mizzou as well as it should be."

The defensive end (though he said some teams see him as a 3-4 outside linebacker) did little to hurt his stock on Thursday. After a solid 4.77 yard time in the 40-yard dash, Ealy dialed it up a notch on his second run. The 6-foot-4, 265-pound defender blazed 40 yards over the turf in the Devine Pavilion in an unofficial 4.57 seconds. That is just four-hundredths of a second slower than the eye-popping time projected top five pick Jadeveon Clowney turned in at last month's NFL Scouting Combine.

"Just going out here showing these coaches I can run in a straight line, but a lot goes with that. You definitely got to come out here and be able to move through the bags and (do the) footwork," Ealy said. "4.5 is pretty good. I'll take it."
Receiver L'Damian Washington turned heads in that same drill. The 6-foot-4 195-pound Washington, who said his toe injury is about 90% healthy, was timed unofficially at 4.39.

"If it was 4.39, I'm disappointed. I heard 4.34, 4.2's," Washington said. "Some people would be happy with that. I always ran a 4.3, so 4.39 is like, ahhh."


Regardless of the exact time, Washington didn't hesitate when asked what the highlight of his day was: "My 40."
Fellow wideout Marcus Lucas chose not to run, instead standing pat on his 4.50 time at the Combine. For Lucas, he believed individual position drills were the most important part of his afternoon.

"I was satisfied with how I ran and what I did there," Lucas said. "Just show my routes and everything like that, that was the biggest piece for me today. Just showing how I could get in and out of my breaks and I think I did a fairly good job of that."
Tailback Henry Josey also chose not to run, happy with his 4.43 in Indianapolis.


"I ran fast already," Josey said. "What do you want me to do? Get a rocket ship and try to run it down? I'm fine with what I did."
The fourth Tiger who seems certain to hear his name called on draft day is cornerback E.J. Gaines. Gaines didn't run or work out at the combine due to an injury, but turned in a 4.43 in the 40-yard dash. Apparently people took notice as Gaines was unavailable for interviews due to a meeting with the San Diego Chargers.
SILENT SAM WORKS OUT--Michael Sam did not speak to the media at pro day, but he was a major attraction. ESPN was in town televising the Tigers' pro day, largely because of the presence of Sam, perhaps the most well-known player in all of football over the last six weeks.
Sam did 19 repetitions on the bench press (up from 17 at the combine), dropped his 40 time to 4.72 seconds and posted a 30-inch vertical jump (for comparison's sake, Ealy had a 32-inch vertical).
WATERS WITH A BIG DAY--Likely the biggest surprise of the day was tight end Eric Waters. Waters was used almost exclusively as a blocker in Missouri's offense, catching just eight passes for 72 yards as a senior.

"You sacrifice what you need to sacrifice in order for your team to be great," Waters said. "(Blocking) was a question mark before. My route running ability never really was a question. Backing up Egnew, I scored a 42-yard touchdown against A&M and I caught passes all through the years after that. Route running and catching a ball in a game situation wasn't a question. Now it was perfecting my blocking and making sure I could dominate the best of the best in this conference. We do play in the best conference around the country."

But Waters measured in at 6-foot-3, 250 pounds. He posted 18 reps on the bench, ran a 4.72, had a personal best 10-foot, 2.5-inch broad jump and a best-of-the-day 39-inch vertical.

"I've worked so hard for so long," Waters said. "I was expecting a little bit better in some areas, but overall today, it was probably one of the better days I've had testing in the last four years. Overall, I am very proud of myself and I am more than happy with where I placed myself after today."
FRANKLIN LOOKING FOR A SHOT--Quarterback James Franklin was not invited to the combine. For him, Thursday marked his lone audition for NFL scouts (every team but the Washington Redskins was represented by at least one member of the organization).

"This is really my only opportunity to get exposure nationally from all the television and all the other guys being here," Franklin said. "In high school, it was kind of how I started getting recruited by scouts would go there for other teams or college coaches would go there for other players. Then they'd see me there and that was kind of how I started getting attention."

Franklin has spent the two-and-a-half months since the end of the season working on his mechanics, hopeful to catch someone's eye and get a chance this summer.


"Being accurate, mechanics and then also having good arm strength," Franklin said. "Besides incompletions, there were about six throws that I felt I could have had better ball placement. Then on some of my deeper throws, I noticed I kind of pulled my arms further apart. I've been trying to keep them tucked. I think I did pretty good today. Obviously, I could have done better not having any incompletions."

Franklin said scouts told him he compared favorably to some of the other quarterbacks they've seen.
WHERE IS THE REST OF MAX COPELAND?--Copeland, who played offensive guard at between 315 and 320 pounds last season, weighed in at 266 pounds on Thursday. He is hoping to catch the eyes of the scouts as a fullback, though he also went through offensive line drills with Justin Britt.

"I kind of just had a vision. I woke up one day, I said, hey, I think I'm gonna try this out. No, I didn't say I'm gonna try this out. I'm gonna this. This is gonna happen. When I knew it was right was when everybody told me it was stupid," Copeland said. "There's a lot of stuff I could have done better, but I had fun and that was the number one priority here was to have fun."

Copeland spent the last few weeks working with three Mizzou graduate assistants to cut nearly 50 pounds and transform his body. He caught the attention of some of his teammates with his work at the new position.


"It was actually surprising, he has really good hands," Franklin said. "When he told me that, I was like, okay, I have to throw it nice and easy so I make sure you can catch it, but I was putting something on it and he had some really good hands. I was impressed."

"I love Max, man," Josey said. "Just to see him all slimmed down and catching routes, I would love to see that. It was awesome and I wish Max the best in everything. He's a great person."

Informed that fullback was somewhat of a dying position in pro football, Copeland responded, "Let's give it a pulse."
WASHINGTON TELLING HIS STORY: Sam wasn't the only Tiger who had a camera crew following him around throughout the day. A documentary crew is working on a project telling Washington's remarkable journey from losing both parents in high school in Shreveport to likely NFL draft pick.

"They're shooting a documentary about my life, where I come from, where it all started," Washington said. "It's not really about me. It's about my brothers. Because any time I can tell my story, I tell our story."