Questions for 2013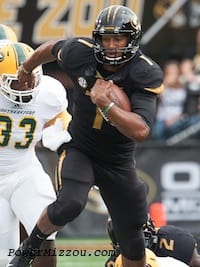 A new year is here. With it, a brand new list of possibilities around Mizzou sports. Here is our look at five big questions facing the Tiger athletic department in the next 12 months.
Can Mizzou win the SEC in basketball? And can the Tigers hang around for a while in March this year?
The Southeastern Conference is
BAD
in basketball. No other way to put it. Florida and Missouri enter league play as the prohibitive favorites. Kentucky is, well, Kentucky and should not be ignored. Other than that? Most of the schools are hoping they can fight their way into the NCAA Tournament equation. Few have many designs on winning the league. As tough as Mizzou's first year in SEC football was (more on that in a minute), most are predicting smooth sailing for
Frank Haith
in year one in his new league.


Of course, the regular season is one thing. But basketball teams are remembered for what they do in March. Despite 30 wins and entering the tournament as a popular Final Four pick a year ago, Missouri was done in less than two-and-a-half hours last year. Is this team more well-prepared to make a run in March? If they do, another question arises. Just how quickly does Mike Alden write up a contract extension for Haith?
What will the SEC mean for the spring sports?


Specifically, we're talking softball and baseball here. Mizzou softball is a regular in the College World Series and looks well equipped under Ehren Earleywine to battle in one of the premier conferences in the country. Of course, the Tigers have already done that. The Big 12 may be a step below the SEC in softball. But if it is, it's a very, very small step.
Baseball is a different story. The SEC has 14 teams and virtually all of them are perennial NCAA Tournament teams. The league had four teams finish last season in the top ten and nine in the top 26 of the national polls. If Missouri entered the deep end of the pool in SEC football, they're jumping off the platform in baseball. The Tigers won the Big 12 tournament last year, but finished just 33-28 overall. Compared to most SEC facilities, Taylor Stadium looks like a high school practice park. Tim Jamieson probably has the most daunting task of any Tiger coach entering the new league.

It is a subject that may spark more passionate debate than just about any other (again, more in a minute) among Mizzou fans. Can Pressey, who is listed (generously) at 5-foot-11, make a living in the league of giants? And more specifically, can he do it after playing just three years of college basketball? The 30 assists in the last two games (and overall numbers that will top every list Missouri has in the category by late this season) say yes. The 34.5% three-point shooting and 34.7% overall say maybe not. Ultimately, Pressey's play over Missouri's final 20-something games will have a lot to do with the decision to stay or go.
Just how much blame do injuries deserve for Missouri's 2012 football season?
To ignore the injuries Missouri suffered is foolish.
James Franklin
was in and out of the lineup. Only
Evan Boehm
, a true freshman, started every game on the offensive line.
Henry Josey
never even played.
So the question is this: Did Missouri stumble to 5-and-7 and 2-and-6 in the SEC because they had too many injuries or were the Tigers not good enough even fully healthy?
Gary Pinkel
said late in the year he would not talk about injuries as a reason for his team's failings. But he then spent much of his press conference after a 14-7 loss at Florida talking about how difficult it was for the Tigers to sustain an injury to
Justin Britt
with the offensive line decimated already.

There is no doubt that injuries had some impact on the season. With a healthy Franklin, the Tigers likely beat Vanderbilt. Maybe they even pull off the upset over Florida. With an offensive line the way it was designed to take the field, maybe Mizzou would have been a bunch better. At the same time, injuries happen everywhere. The roster has to be deep enough to deal with them. Will Missouri be healthier next year? And if they are healthier, are they better? The answers to those questions will also lead to an answer to our fifth, and most glaring, 2013 quandry.
Will Gary Pinkel make it to 2014?
Very few thought Pinkel should have lost his job for a 5-and-7 season this season. Very few. Pinkel is the third-winningest coach in Mizzou history. He took over a program that had been to two bowl games in 17 years and took it to seven in a row and eight in nine years. Missouri has been No. 1 in the nation under Pinkel. It has played for two Big 12 championships and was a half away from playing for the national title. That's a long way of saying that Pinkel had built up enough equity to have a losing season and not worry about his job.
But can he have two?
As overhyped as many Mizzou fans (and I thought it too) felt the SEC might have been, just about everything we were told was true. It's different in the Southeastern Conference. Gene Chizik won a national title in 2010 and he's out of a job. In fact, five SEC teams missed a bowl game this year. Four of them fired their head coach. Fair or not, it's the world in which Pinkel now works.

The major question is one that we can't answer: Just what is good enough to keep Pinkel at Missouri? Is it a certain number of wins? Is it the record in the SEC? Is it how much progress Missouri makes as a team regardless of the record? Is he safe no matter what?

The answers to those questions are known only to Mike Alden. And even he may not know them right now. If things go well for Pinkel, no one will ever know those answers. But if they don't, well, seats go from warm to blazing pretty quickly in the SEC.
Nobody covers Mizzou sports like PowerMizzou.com. If you are not yet a member, just try out our seven-day free trial
.