Rupert knew it all along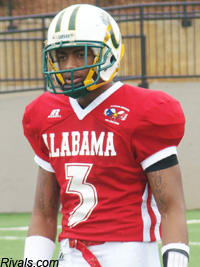 Missouri's interest in Montgomery (Ala.) Carver safety
Shaun Rupert
came as an abrupt change. Almost as abruptly as his recruitment began, it ended with a weekend commitment to the Tigers.
Rupert began to hear from Missouri in early January, when Pat Washington joined Gary Pinkel's staff as the new wide receiver coach. Washington recruited Rupert while he coached at Kentucky. After joining Missouri's staff, Washington passed along Rupert's name.
"Before that, I don't think they recruited my area at all," Rupert said. "He told them about me, and he said it came down to around five safeties they were looking at, but they decided to offer me."
At the time of the offer, Rupert was an Arkansas State commitment. He remained that way until Saturday, following Missouri's basketball game against Auburn. After returning to his hotel to rest before dinner, Rupert picked up the phone and called Bryan Harsin's staff in Jonesboro.
"I told them I was going to de-commit and to thank them for the opportunity," Rupert said.
Soon thereafter, he met Washington in the lobby of the hotel, ready to head to dinner. It wasn't long before he would be a Tiger.
"He showed me my scholarship papers, and I told him I de-committed and was ready to be a Tiger," Rupert said.
At dinner, Rupert told the rest of the staff.
"They were all really happy and welcomed me to the family," Rupert said.
In reality, Rupert said he knew he would commit to Missouri before the visit. He wanted to wait until his mom was able to vet the schooli.
"From an education standpoint, they answered all her questions," Rupert said. "She really liked it."
Rupert's commitment to Missouri ended his recruitment four days before National Signing Day. He'll sign with Missouri at 11:30 AM Wednesday and will enroll in June to begin his college career. Rupert is a 5.5 three-star according to Rivals.com. He had offers from Kentucky, Penn State, Minnesota and South Florida, among others.
Nobody covers Mizzou recruiting like PowerMizzou.com. If you are not yet a member, just try out our seven-day free trial
.