SEC Spring Preview: LSU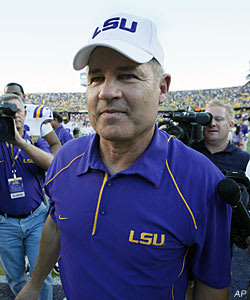 The next time Missouri plays a game it will be as a member of the Southeastern Conference. Over the next few weeks, PowerMizzou.com will introduce Tiger fans to their new league. We will do a question and answer session with our counterparts at each SEC school prior to spring football. Today, we stay in the state of Alabama and take a look at LSU with Bryan Lazare, who covers Tiger football for TigerBait.com.
There has been talk that LSU will be a better team in 2012 than it was in 2011. Is that accurate?
Lazare: "It is very difficult for any team to perform better than the Tigers did in 2011. In 12 of 13 victories, the margin of victory was at least 13 points. LSU had victories against two BCS bowl champions - Oregon (Rose Bowl) and West Virginia (Orange Bowl). From a talent standpoint, there will be very little drop off. The offense could be better, while the defense may not be quite as strong. Special teams could be more productive. It would be safe to say that the 2012 Tigers team can certainly be as good as the 2011 edition."
Does LSU now simply reload every year?
Jones: "The SEC is too difficult a conference to have a continual high level of success. There are too many teams ready to jump to the top of the heap. LSU won a national title in 2007, but lost five SEC games in 2008. Alabama won a national title in 2009, but finished fourth in the SEC West in 2010. Florida won the national championship in 2008, but two years later it lost five games. Auburn won the national crown in 2010, but lost five games in 2011. A slight dip in talent or some bad fortune with injuries can leave any SEC team staring at a three-loss conference season. It wouldn't be surprising to see LSU fall to 9-3 or 8-4 in 2013."
What are the biggest strengths of the 2012 LSU team?
Jones: "LSU returns all of its tailbacks -- Spencer Ware, Michael Ford, Alfred Blue, Kenny Hilliard and Terrence Magee. All but Magee had at least a 100-yard rushing game or a multiple-touchdown game. The Tigers will also have five offensive linemen who have started at least ten games -- center P.J. Lonergan, guards Josh Dworaczyk and Josh Williford and tackles Alex Hurst and Chris Faulk. Dworaczyk, who missed last season with a knee injury, was recently granted a sixth year of eligibility. Both the defensive line and the linebacker corps are deep. There are four ends and four tackles who have logged significant playing time. End Sam Montgomery and tackle Bennie Logan are all-star players. Kevin Minter is a solid middle linebacker, while there are a number of juniors who are ready to make big contributions at that position -- Tahj Jones, Lamin Barrow and Luke Muncie. On special teams, the Tigers return three all-SEC players -- kicker Drew Alleman, punter Btad Wing and punt returner Tyrann Mathieu."
What holes need to be filled?
Jones: "It's pretty unusual to say an area in which there is a returning All-American and another returning all-conference player is an area of weakness, but that's the case with the Tigers. That fact reflects the strength of the LSU defense. Mathieu, a Heisman Trophy finalist and an all-SEC cornerback, returns as does all-league safety Eric Reid. But, the only other returnee with real experience is cornerback Tharold Simon. So, some young players must step up because coordinator John Chavis wants to use the nickel and dime packages on numerous occasions. Keep an eye on two redshirt freshman cornerbacks -- Jalen Collins and David Jenkins -- and sophomore safety Ronald Martin. On offense, the Tigers need two sophomore tight ends -- Nic Jacobs and Travis Dickson -- to be able to help returnee Chase Clement. LSU lost two of its top three tight ends. A replacement must be found for No. 1 wide receiver Rueben Randle, but there are candidates -- led by sophomores Odell Beckham and Jarvis Landry. Then, there's the quarterback position. Jordan Jefferson and Jarrett Lee are gone. Zach Mettenberger is definitely a more talented performer. But, he has yet to do it in the SEC."
What are the potential stumbling blocks on the schedule?
Jones: "Outside of Alabama, undoubtedly the regular-season finale at Arkansas will be LSU's biggest challenge. The Razorbacks will be right there with the Tigers and the Crimson Tide. Moreover, LSU has always had trouble playing in Arkansas. The other possible trap game is the conference opener on the road against Auburn."
Do you see the split in power in the divisions as a cyclical thing? Will the East come back some time soon?
Lazare: "Certainly, there will be no change in 2012. LSU, Alabama and Arkansas are definitely the three best teams in the SEC. Georgia and South Carolina will have very good teams, but they are not in the class of the three aforementioned teams in the West. The East will not come back strong until Tennessee and Florida end their slumps. I don't think either team is ready to jump to that nine or ten-win level in 2012. Missouri, with a solid quarterback, is joining the East at the right time. The same cannot be said for a rebuilding Texas A&M in the West. It could be a long first year in the SEC for the Aggies."
Nobody covers the Tigers like PowerMizzou.com. If you are not yet a member, just try out our free trial.