Spring Tour: Winnetonka

NORTH KANSAS CITY-- Sometimes, it just takes one recruit to change the culture at a high school.
It's not that Iowa-bound
Aaron Mends
was a catalyst for a change within the Winnetonka program -- no, that occured when
Sterling Edwards
arrived from Blue Springs four years ago. But for a program with a serious drought in Division-I talent, Mends was a trendsetter.
Mends, a linebacker, became the first Griffin to sign with a Division-I team since 1984. Thirty years.
Without Mends, teams would have still found out about 2015 four-star athlete
Marquise Doherty
, a prodigious talent with a 27 ACT score to boot. But having a player with the profile of Mends, combined with an underclassman as talented as Doherty -- well, it can help the entire program.
"Once we get one, it gets the ball rolling," Edwards said.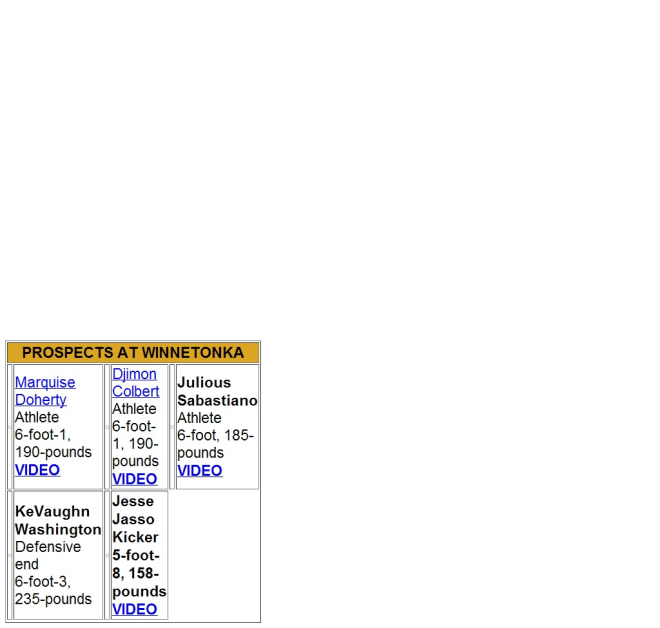 Because of Mends, who will arrive in Iowa City during the middle of June, and because of Doherty,whose profile keeps rising, Winnetonka has suddenly become a crossroads for college coaches across the nation. The Griffens have a handful of other players who are getting interest from lower-level schools, such as 2015 running back/ safety Chase Williams (5-10, 185), 2015 athlete Julious Sabastiano (6-0, 195) and 2015 defensive end KeVaughn Washington (6-3, 235).
Washington is a wild-card, according to Edwards.
"He thought he was a basketball player until a year ago," Edwards said. "So he's only had one full year of football."
Another player who has benefitted is 2015 kicker Jesse Jasso. Jasso has participated in Kohls' Kicking Camps, and is currently the 59th-ranked kicker according to that service.
"He'll be a three-time all-state kicker, and will be a college kicker at some level," Edwards said.
But the player who may eventually benefit most from the trail that Mends and Doherty have blazed at Winnetonka is 2017 defensive back
Djimon Colbert
.
PowerMizzou.com
first identified Colbert as a player to watch during Winnetonka's opening game in the 2013 season, where he intercepted a pass against Liberty. Colbert was a varsity starter as a freshman, and his size (6-1 already) has caught the eye of college coaches coming to check in on Mends and Doherty.
"Physically, he doesn't look like a freshman," Edwards said. "He definitely passes the eyeball test when coaches come in. This year, he'll play both sides of the ball fo us, at receiver, too. Everyone says he's better as a receiver, and with his size already, he might grow out of corner and play some safety for us.
"It won't surprise me one bit if a year from now, he starts getting offers like Marquise did. He's just as good."
But Doherty is the star of the show at Winnetonka. In the last four years, the Griffins have improved from 3-7 to 7-5 to back-to-back eight-win years. Last year, Doherty was part of a trio in the offensive backfield, sharing carries with Williams and Mends. It required Edwards to get creative with his distribution of carries, and how he used the trio.
This year, his role won't be as contested.
"Marquise is the guy we'll give the ball to 20, 25 times a game and let him go," Edwards said.
In college, however, Doherty's role may be on the other side of the ball. While some schools are recruiting Doherty as a running back, Edwards said most schools told him that, according to their film evaluation, he has a bigger upside as a safety at 6-foot-1, 190-pounds. He's also a stand-out in baseball, and hopes to play both in college, depending on if (and where) he's drafted in the 2015 MLB draft.
This season comes with big expectations for Doherty and his teammates. Winnetonka graduated 17 seniors last Friday, but the 2015 class has 33 players currently. Eight starters return on offense; five on defense.
"That's the deal," Edwards said. "We gotta say, hey, this is your chance to make a mark. We've kind of raised the bar every year, and now you guys have a chance to truthfully go down as one of the best classes, if not the best, in the history of our school, what kind of mark do you want to leave?"
Mends and Doherty have already left a mark, turning Winnetonka into a destination for college recruiters. It's up to the team entire to do the rest in 2014.

Click
Here
to view this Link.