Stec leaves for Missouri State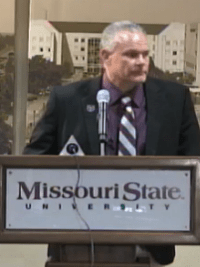 After 24 hours of rumors and reports, Missouri defensive coordinator
Dave Steckel
was announced as Missouri State's new football coach.
In a press conference in Springfield, Mo., Steckel talked about the decision to leave Missouri.
"Right now I think the plan is right," Steckel said.
Steckel has been with Gary Pinkel since the 1992-1993 season at Toledo. He became Missouri's defensive coordinator following the 2008 season, when previous coordinator Matt Eberflus left for the NFL.
"It's real hard to leave a man of integrity, who took you in off the street," Steckel said, citing how he joined Pinkel's staff after being fired at a previous job.
Missouri released comments from Pinkel following Steckel's press conference:
"We're so happy for Stec having the opportunity to run his own program. He's wanted to be a head coach for a long time now, and it's exciting for all of us that he's got his chance. Stec is going to do a great job at Missouri State, and I'm just so appreciative for all of the great things he's done to help us build our program at Mizzou. We've worked together for close to 20 years and it's going to be strange to not have him around. We're grateful that he's able to stay with us through our bowl game, and it's going to be important for us to send him out the right way. Missouri State is getting a guy who is an outstanding coach, an even better family man, and someone who really cares about people."
Steckel said he informed his players at Missouri after Sunday's practice.
Steckel was making around $600,000 at Missouri, and he'll take a pay-cut to $270,000 to coach Missouri State. Steckel wouldn't address the contract or talk specifically about money during the press conference.
"If it was about the money, I probably would have left Mizzou a long time ago," Steckel said.
Missouri's search for a new defensive coordinator will now begin in earnest. At this time, the two most likely candidates appear to be either defensive line coach
Craig Kuligowski
or Memphis defensive coordinator
Barry Odom
, who both played for and coached at Missouri.
Steckel will coach Missouri's defense through the bowl game on Jan. 1, 2015.