The Rhoades Report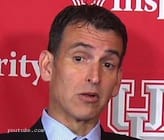 THE MACK RHOADES FILE
Missouri is set to announce Houston Athletic Director Mack Rhoades as the successor to Mike Alden at Missouri. Below is a brief history of Rhoades' career.
AT HOUSTON: Rhoades was hired at Houston in June of 2009. He inherited football coach Kevin Sumlin, who led the Cougars to national prominence in a 13-1 season in 2011. That helped Rhoades generate increased fundraising for a brand new $125 million football stadium which was completed in August. Rhoades also began construction on a $25 million practice facility for the basketball team. His coaching hires include Todd Whitting, who had the Cougar baseball team No. 3 in the nation to start the season. Rhoades hired Kelvin Sampson as the Cougars basketball coach this season and Ohio State offensive coordinator Tom Herman as the football coach following the 2014 season. He was the Athletic Director who oversaw Houston's move from Conference USA to the American Athletic Conference.

AT AKRON: Rhoades took over at Akron in 2005, his first job as an Athletic Director. He oversaw the construction of a $61.6 million football facility at Akron, where the Zips attendance more than tripled. He created a women's golf program at Akron and increased the academic profile of the athletic programs across the board.

EARLY CAREER: Rhoades spent one year as a marketing assistant at Yale before moving on to Marquette, where he was the athletics advancement officer. He was then the executive senior associate athletics director at UTEP from 1998-2005 under former Mizzou football coach Bob Stull. At UTEP, Rhoades helped raise more than $9 million and was heavily involved with facilities upgrades, including the construction of an $11 million sports center.
PERSONAL: Rhoades is a graduate of the University of Arizona and earned a Master's degree from Indiana. He is married with three daughters. Rhoades is 49 years old.