Thomas is all the way back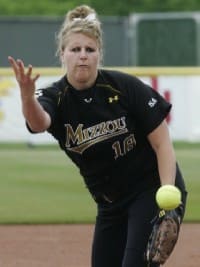 Forget Chelsea Thomas' 15-3 record. Dismiss her infinitesimal 0.56 ERA - the best in Division I softball. Don't worry about the two perfect games she's tossed this season. Thomas says she has felt fine all season, but if you ask her and coach Ehren Earleywine, the moment she came all the way back from a stress fracture that cut short her sophomore campaign came with a feeling on Monday. Or, rather, no feeling at all.
When Thomas reported no pain after pitching complete games in two straight days (including throwing a healthy number of rise balls, which both suspect may have caused her stress fracture), it was all the confirmation the two needed.
"It was the worst possible scenario on every front for her on a health standpoint, and she came out of it on Monday feeling as good as she's ever felt," Earleywine said. "At that point I said, 'This is over. Chelsea Thomas is healthy, she's at the top of her game and we can move on.'"
If Thomas does in fact stay out of injury trouble, it would make Missouri's chances to get to a third-straight Women's College World Series even better.
Thomas pitched in Missouri's 2009 WCWS appearance, but injuries have made her re-evaluate things in the years since. Thomas is still a dominating pitcher, but she's listening to her body more than ever before.
"I'm the type of person who doesn't admit when I'm feeling pain," Thomas said. "I've had to grow as an athlete to protect myself and learn that it's not good to hold it in when it could end your season."
Thomas has shown flashes of brilliance since her freshman campaign when she threw two no-hitters and went 16-7 overall. But a biceps tendonitis put her on the bench for nearly a month in the middle of the season before she was able to come back for the Tigers' World Series run.
Fast-forward to the 2010 season, and Thomas looked to be even better. She threw two more no-hitters and won all 12 of her starts. But a stress fracture in her throwing wrist put her on the sidelines yet again.
"You go through doubt all the time with injuries," Thomas said. "I'm a pretty positive person, but there were days when I was like, 'It would be so easy to give up.' But that's just not what I'm about."
Thomas made sure she stayed a part of the team as it made its way to another WCWS.
"That was one of the first things she said when she got hurt last year," Ashley Fleming said. "She wanted to make sure she could still travel with us so that she could be there to support us."
But it was still an experience Thomas didn't want to go through again. It became clear that if she wanted to help her chances to avoid devastating injuries, more transparency with her trainers and coaches would be necessary.
"In the past, she wouldn't tell me anything," Earleywine said. "Once you get injured, that changes your tune a little bit. You realize there's a lot more at stake if I push this thing too hard."
In addition to gauging how she feels the day after she throws, Thomas also does a grip test after each of her outings to test the strength of her arm.
"I'm very in tune with my body right now," Thomas said. "Any little tweak or pain, I'm on it."
Earleywine said he is constantly checking up on Thomas' health either through text message or in-person. The past year he's seen his ace pitcher face her health in a different way.
"Although we may not have seen outwardly any shows of frustration or anger or sadness because she couldn't pitch, I know on the inside it was eating at her," Earleywine said. "I know she had her own demons that she needed to deal with that whole process. It really grew her up."
Thomas and Missouri take on No. 20 Texas A&M this weekend in the Tigers' first conference homestand. Game one is 1 p.m. Saturday and game two is 11 a.m. Sunday.