Tigers add four star transfer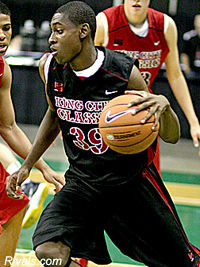 Two years ago,
Deuce Bello
was one of the most highly coveted high school basketball players in the country. As of Monday morning, he is a Missouri Tiger.
The former four-star prospect and Baylor Bear told PowerMizzou.com he will transfer to Mizzou.
"I have decided to play for Mizzou," Bello said. "We played them three times while I was at Baylor. I really like the way coach
Haith
's teams play. They get up and down, they play defense well. I just really like the style of play."

Bello didn't need to take a visit to Columbia to make his decision after deciding to leave Baylor just a week ago.
"I've been to Mizzou's arena before," he said. "I really like the way they play. I like their coaches and the players. They play in a sold out arena almost every night."
Bello was a four-star prospect according to Rivals.com in the Class of 2011 after a prep career at Westchester Country Day in which he made the all-state team three times. He was rated as the No. 54 player in the country in that class. In two years at Baylor, he played in 66 games, but averaged just 10.6 minutes and 2.8 points. He said he did not want to discuss the reasons he chose to transfer.
"There is nothing wrong about Baylor," Bello said. "At this point in time, I just feel like Missouri is a better place for me to play."
Over the last week, Bello has spoken with both Frank Haith and Tiger assistant
Tim Fuller
. Their message to him about his role as a Tiger has been clear.
"They pretty much just said they want me to lock down who I guard," Bello said. "Get up and down the floor and finish."
Bello will sit out next season and will have two years of eligibility remaining after that. The transfer has not yet been announced by the school, but leaves the Tigers with one scholarship still remaining for next season.
Nobody covers Mizzou hoops and recruiting like PowerMizzou.com. If you are not yet a member, just try out our seven-day free trial
.