Tigers expected to sign three
Missouri is expected cement most, if not all, of its 2017 basketball recruiting class Wednesday when the early signing period kicks off.
The Tigers early signing period haul includes three wing players, including two local standouts — Whitfield School 4-star wing Torrence Watson and Belleville East (Ill.) 3-star forward Javon Pickett, who was originally committed to Illinois, but re-opened his recruitment and reclassified while committing to the Tigers. Cuonzo Martin also added Illinois-Chicago transfer K.J. Santos, who after sitting out this upcoming junior college season, will have three years of eligibility remaining at Mizzou. All three confirmed to PowerMizzou.com last week that they will be signing Wednesday or Thursday.
The top remaining known uncommitted target on Mizzou's board is a big one: Webster Groves 4-star PG Courtney Ramey. After backing off his commitment to Louisville following Rick Pitino's firing, Ramey has amassed a number of new suitors, including Texas, Villanova and a reinvigorated effort from Mizzou.
Ramey's father, Terrell, told Rivals.com national analyst Eric Bossi that his son will wait until the spring signing period to make his decision.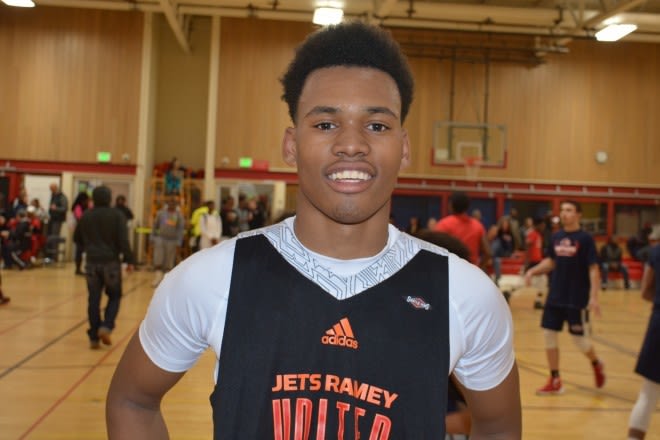 With the expected departures of Michael Porter Jr. (sorry, Mizzou fans), Kassius Robertson and Jordan Barnett after this season, Martin's staff heavily targeted versatile wings to replace them.
Santos, a native of Puerto Rico, averaged 7.1 points and 4.2 rebounds per contest as a freshman at UIC before opting to transfer to Tallahassee Community College last spring. Originally expected to be on TCC's top players in 2017-18, Santos tweeted that he'll be redshirting this season to save a year of eligibility.
Pickett originally committed to Illinois in January 2016, but asked out of his letter of intent after head coach John Groce was fired last spring. With most schools' 2017 classes already full, Pickett opted to reclassify to 2018 and committed to Mizzou in early June. As a senior at Belleville East last year, Pickett averaged 25 points, 6.5 rebounds, 3.4 assists and 2.6 steals per game.
Watson, the lone in-state commitment Martin has received in his short tenure at Mizzou (other than the Porter brothers), is the crown jewel of the his second recruiting class. After originally pledging to Ohio State, Watson, the No. 117 player in the 2018 Rivals150, backed off his commitment in late August and announced two weeks later he was committed to Mizzou. PowerMizzou.com was able to catch up with him earlier this week ahead of his signing ceremony at The Whitfield School.
PM: Was the atmosphere at Mizzou Madness what you expected?
TW: "It was kind of what I expected, but I was a little bit surprised. I had been to a lot of practices and seen the guys play, and I'm just excited finish this year and be there next year."
PM: Did your visit to Mizzou Madness confirm you made the right decision in committing to Mizzou?
TW: "It definitely did. Going to Madness, I think there were more people at that than some of the games I went to last year. It was just really exciting to see that the fans are behind everybody. The guys really competed, and that's just something I love to see."
PM: Now that Signing Day is here, what are your thoughts on the recruiting process? Are you happy to be done with it?
TW: "I think it's just been a blessing, having schools recruit you and being able to choose between the schools you want to go. I'm really excited that signing day is coming up, and kind of sad that it's my last high school season. Hopefully we can win a state championship this year, and then I can go off to Mizzou."
PM: Did any other schools contact you after you committed to Mizzou?
TW: "No more schools recruited me after I committed."
PM: What ultimately sold you on Mizzou as the place as you wanted to play?
TW: "The relationship that I have with the coaches. Coach (Chris) Hollender, Coach (Michael) Porter, Coach Corn (Cornell Mann) and Coach Cuonzo especially. But also being close to my dad and my brother, and them being able to come see all my home games. With their work schedules, if I had gone to another school, they wouldn't be able to come to the games. That was really big for me."
PM: What should Mizzou fans expect from Torrence Watson in 2018?
TW: "I just hope to do everything Coach Martin asks me to, have a positive impact on the team and help us win."
Stay with PowerMizzou.com as the early signing period unfolds for coverage of the Tigers' class.