Tigers move on minus Brantley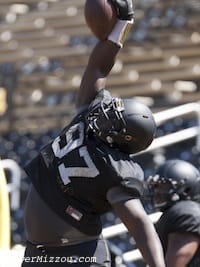 HOOVER, AL
--The goals for
Harold Brantley
were clear coming into his junior season.
"He anticipated being an All-American this year," Mizzou head coach
Gary Pinkel
said.
And then on June 21st, Brantley's car drifted onto the shoulder of Highway 63 south of Columbia. As he hit the rumble strips, Brantley overcorrected and his vehicle, with women's basketball player Maddie Stock as a passenger, flipped. Neither Brantley nor Stock was wearing a seat belt. Stock was released from the hospital later that day with minor injuries. Brantley had surgery to repair a broken leg, suffered a fracture in his shoulder, broken ribs and ligament damage to his knee which will be operated on in the next few weeks.

Pinkel confirmed on Wednesday at SEC Media Days what everyone already knew. Brantley will not play for the Tigers this season.

"I'm glad that he can be 100 percent again," Pinkel said. "He's not going to play this year, but certainly we expect him to get back, get going. He's going to go through some tough times. He was obviously very disappointed. He had a great spring with his leadership and certainly his play."

While Brantley's loss is a blow to the 2015 Tigers, Missouri's entire contingent in Hoover was simply happy that the damage was not more severe.
"I just wanted him to be alive," Pinkel said when he got the news.

"I was at home that day, our trainer called us, Rex Sharp," senior cornerback
Kenya Dennis
said. "He told me that Harold had got into a pretty bad accident and it was pretty severe. They were just happy for him to be alive at that time. It hit us hard"
"To know you can't get in the hospital for a couple days, you kind of realize how serious it is," quarterback
Maty Mauk
said. "A lot worse could have happened."
There is still no timetable on Brantley's recovery or return to football. At this point, only one thing is certain: It's a long way off.
"The worst thing for him is it's just hard," Mauk said. "When you're projected to be this big part of our football program, it's hard for somebody, especially at our age, to be like, boom, at the snap of a finger it's gone for a season. You don't really get that back. I think that's the main thing he's got to do is just stay mentally tough, just fight and get back."

The initial reaction from Mizzou, both those in the program and outside it, was relief that Brantley was alive and would have a chance to fully recover physically. With the accident nearly a month gone by, the reality is that his absence leaves a huge hole on the field for Missouri.

The Tigers lost Shane Ray, Markus Golden, Matt Hoch and Lucas Vincent from the 2014 team, four of the top five tacklers among defensive linemen. Brantley was the fifth member of that group, his 54 tackles ranking third among linemen.
"It's definitely gonna affect us in a big way," Dennis said. "We've just got to get the young guys, get the backups ready to play cause it's their time now. Someone's gonna have to step up and play."

Adding in the dismissal of Marcus Loud this spring, the numbers gone from the front four of 2014 are staggering: 82 games played, 55 starts, 289 tackles, 67.5 tackles for loss, 36.5 sacks, 30 quarterback hurries, nine pass breakups, six forced fumbles, five fumble recoveries and two blocked kicks (both from Brantley).
Of course, Mizzou knew most of that production was leaving at the end of last season. Loud's dismissal and Brantley's injury were the only unforeseen developments. And at this point, both are water under the bridge.

"That's a big loss, but it's over," Pinkel said. "That could have happened the first day of August football.
Josh Augusta
is a good young player,
Rickey Hatley
has come along. We've got to work on the depth there, no question about that. We will do that.
A.J. Logan
is going to be involved with that also."

"Certainly with Harold's injury, Terry's name has come up quite a bit, as far as being able to come in and play right away," Pinkel said. "One thing about him, he doesn't get caught up in a lot of stuff. It's kind of nice. The shining light is not really him. I think he's a little bit shy that way. I just think we have to get him to focus on becoming a better player and keep his priorities right."
"They're still good. The guys over there are still really good," Boehm said. "They're led by
Charles Harris
and Rickey Hatley. You have Terry coming in. Josh Augusta. Coach Kul is the best defensive line coach in the nation. If there's a will there's a way with that guy and he's going to find a way."
Despite the fact that he won't be on the field, his teammates said Brantley will still play a prominent role for the 2015 Tigers.

"If this would have happened to Harold a couple years ago, I don't think Harold would have been here. I don't think his attitude, or how positive he would have been," Boehm said. "he's doing a great job with keeping his positive attitude. If he doesn't keep his positive attitude, there's a couple of guys on our team that might not keep theirs too and he knows that. He's still a leader even though he is where he is and he's in the position he's in and I think he knows that."
All of the Tigers said they have talked to Brantley quite a few times since the accident and he is in good spirits.

"He's doing good," Dennis said. "Actually ready to get out and play with us right now. He's still Harold. He's just wanting to come back stronger than he was."

"I walked in there twice and he's had the biggest smiles on his face, laughing and joking and telling us what's going on in the hospital and how he can't wait to come out and hang out," Boehm said. "There's been a couple days where he's come out to our workouts early in the morning. They brought him over and he got to watch us work out. We went over to the sand pits one day and he was out there in a wheelchair, I went behind him and unlocked his wheelchair and started pushing around and I was telling him, 'Grandpa Harold's got to get his exercise in today.'"

This season is gone, but the Tigers are hopeful that Brantley can return in 2016 as a senior.
"He's a guy that I'd take over anybody to go out there and fight," Mauk said. "You want to talk about a competitor, a guy that has heart, he's going to give you everything he has at all times. He's gonna be back. He's gonna come back better than what he was. You can just tell. That's who Harold Brantley is."