Two on top for Cornelius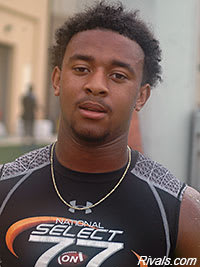 Jared Cornelius
came in to his trip to Missouri not exactly knowing what to expect. The Tigers were one of his most recent offers and had quickly risen up his list of favorites.
The 2014 Shreveport (La.) Evangel Christian wide receiver came away from the visit with a greater understanding of what Mizzou has to offer and a top two heading into his senior season.
"It was good. I definitely got shocked. It wasn't really what I expected at all. It really changed my mind for the better I would say," the number 35 ranked Louisiana prospect explained.
"Really, it's down right now to Arkansas and Missouri," Cornelius continued. "I'm planning on going to both schools for official visits towards the middle of the season to see how they play and everything. After that I will make my decision."
For Cornelius, it was not one specific factor that made the visit a success. Instead, the laid back nature of the trip and the ability to spend some time soaking everything in made the difference.
"I went on a couple tours of the athletic facilities and the campus," said Cornelius. "After that we had some meetings with the coaches and that was pretty much it. It was fun. My recruiter, Coach [Pat] Washington, is like a legend. He's known for putting out receivers. Just being up there and talking with him and learning...I learned stuff just talking with him. It was very beneficial."
Another positive for Cornelius on the trip was the chance to reconnect with fellow Shreveport native L'Damian Washington. The two 'Port City' stars knew each other already despite their being a few years age difference.
"He came with me on my tour and we hung out today," explained Cornelius. "He was saying how it's a family place with a family environment. What he told me that really got to me was that he never really goes home during the breaks because it's like he's got a family up there. He definitely enlightened me with some stuff."
With his plan for a decision in place, now it is up to Cornelius to evaluate each school before making a decision. Unofficial visits to both Missouri and Arkansas are complete, making it easier for Cornelius to focus on what is most important to him when picking a school.
"Playing time and how early I'd get to play are important," he said. "Development for the next level, as well, because I do want to play in the NFL. Then, just the coaching staff and the environment. One thing that Missouri kept saying was 'We're like a family around here'. That was nice."
Click
Here
to view this video.