Vock-off walk-off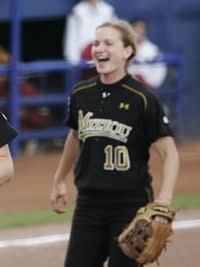 With one swing Abby Vock turned a bad day into a good one.
The senior stepped to the plate in the bottom of the ninth Saturday with the Missouri softball team tied at two with Oklahoma. Earlier in the day, Vock had been hit by two pitches and made an error at second base that sustained a game-tying Oklahoma rally.
But all it took was a high fly ball to left field that just cleared the fence to turn things around. Vock was transformed into the hero as Missouri beat its conference rival 3-2 to improve to 34-5 overall and 8-1 in the Big 12.
"[My teammates] were hitting my helmet, I felt really dizzy," said Vock of the raucous postgame celebration. "I was like 'please stop!' They were super-excited; I am too."
"I can't think of a more dramatic [ending] from a more unsuspecting person," coach Ehren Earleywine said. "It was as exciting and as fun of a win that I've had as a coach in a long time."
Vock was an unlikely candidate to provide a walk-off home run. Not known for her power hitting, Vock came into the game with a modest two home runs on the season.
"Abby's like David Eckstein," Earleywine said. "She just grinds out her at-bats. She sees a lot of pitches. She's a singles hitter. We like for her to keep the ball on the ground. All those things that singles hitters do. That's why it's a little bit humorous that she touched one off there."
The home run was a climax to a back-and-forth game. Missouri took a 1-0 lead in the first when senior Catherine Lee singled home sophomore Jenna Marston. In the second inning, senior catcher Megan Christopher had a nasty home plate collision with senior Dani Dobbs. Christopher held on to the ball and Missouri's lead was safe.
Oklahoma managed to tie the game at one in the fifth, but Missouri answered with an RBI double from sophomore Nicole Hudson in the bottom half of the frame.
After Oklahoma tied it in the sixth, both offenses went silent. Missouri played extra innings for the first time this season, and Christopher was glad Vock put an end to things when she did.
"We'd play as many innings as they'd put us out there for, but, Abby, thank you very much," Christopher said.
Both starting pitchers went the distance. Chelsea Thomas struck out a career-high 17 batters to improve to 19-3.
Oklahoma's Keilani Ricketts was just as impressive. The sophomore struck out 16 Tigers and walked only one.
Her only other signs of wildness were when she hit Vock in the second and fourth innings.
Things got worse for Vock in the sixth inning when she couldn't handle a throw at second base from the third baseman Hudson. Instead of getting a force out, the error allowed freshman Destinee Martinez to advance to third and she eventually scored.
But Vock didn't let her struggles set her back.
"I was just trying to focus every at-bat," Vock said. "Even if she hit me, I knew she'd come back with strikes. I hung there and got it done."
It all added up to a dramatic win in front of a hyped-up University Field crowd of 913 - the biggest this season.
Missouri returns to University Field at 3 p.m. tomorrow to finish the series. Tiger football coach Gary Pinkel will throw out the ceremonial first pitch.