2009 class finding NFL homes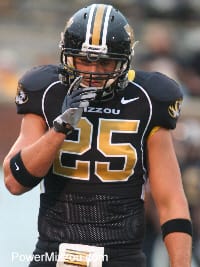 Nobody covers Missouri football and basketball like PowerMizzou.com. If you are not yet a member, just try out our free seven-day trial
The 2009 NFL Draft will go down as one Missouri fans will remember for a long time. For just the second time in school history, two Tigers were drafted in the first round. In addition, the six overall draft picks is the second-most Missouri has produced in a single year.
By now, most Tiger fans know where the draft picks are headed. But just in case, here's the quick recap:
Jeremy Maclin, Philadelphia Eagles, first round
Ziggy Hood, Pittsburgh Steelers, first round
William Moore, Atlanta Falcons, second round
Chase Coffman, Cincinnati Bengals, third round
Colin Brown, Kansas City Chiefs, fifth round
Stryker Sulak, Oakland Raiders, sixth round
But the action didn't stop when the draft came to a close. Soon after the end of the seventh round, Chase Daniel informed PowerMizzou.com he had signed a free agent deal with the Washington Redskins. Linebacker Brock Christopher will join Moore in Atlanta. He signed as a free agent with the Falcons on Sunday evening.
Three more Tigers are still trying to earn that free agent deal. Tommy Saunders, who shares an agent with Tampa Bay first round pick Josh Freeman, will have a tryout with the Buccaneers on Thursday. Quarterback Chase Patton and kicker Jeff Wolfert have tryouts scheduled with the Bears during Chicago's minicamp.
PowerMizzou.com kept fans up to the minute throughout the draft and will continue to deliver the news as the former Tigers search for NFL homes.
Nobody covers Missouri football and basketball like PowerMizzou.com. If you are not yet a member, just try out our free seven-day trial