2013 Top Plays: Offense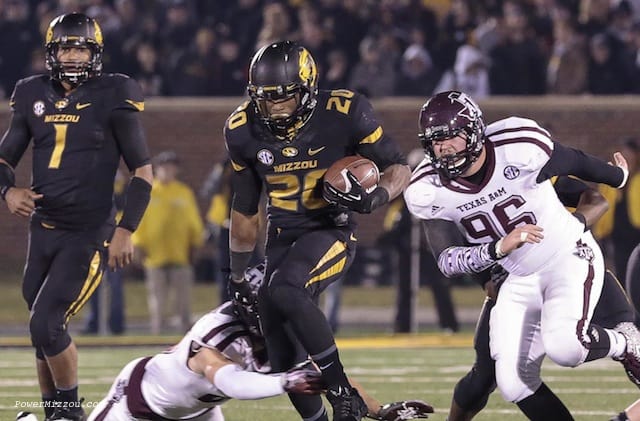 With 2014 just around the corner, PowerMizzou.com is taking a look back at the moments that made an SEC East title possible for Missouri's football team. Today, we start with the top-five offensive plays from Missouri's 2013 season.
5. Missouri will be fine:
Only a week had passed since James Franklin injured his throwing arm against Georgia, and his return date was still up in the air. While
Maty Mauk
had some playing experience, he would be thrown in the fire against Florida (which hadn't collapsed yet) and South Carolina over back-to-back weeks.
There was a collective holding of breathes when Mauk took his first snap in the first start of his college career. Instead of going conservative against the nation's second-ranked pass defense, Missouri went bold. His first pass was a 40-yard attempt down the visitor's sideline. L'Damian Washington made a leaping grab and also drew a targeting penalty on Cody Riggs.
The next play, Mauk hit Bud Sasser for a 20-yard touchdown. At that point, there was a collective sigh of relief. Mauk showed that the drop off from Franklin wouldn't be too severe, and the Tigers went on to roll the Gators 36-17.
4. DGB, DGB, DGB, DGB:
Dorial Green-Beckham
, while having an improved year, had yet to have that game where he asserted himself as one of the top receivers in the nation. That changed against Kentucky.
Green-Beckham dominated against the Wildcats, catching seven passes for 100 yards and four touchdowns. It wasn't just the stats, either. It was how he brought in those passes, none as difficult as his third scoring catch.
On an underthrown jump-ball to the front corner of the endzone, DGB jumped up, reaching over a defensive back and catching the ball behind the player's back. He brought in the catch, and the defender, for a touchdown. It was one play that sums up his talent better than any. In an instance, he used his size, strength and athleticism to make a catch that left everyone astounded.
3. Welcome back, Henry:
The play itself proved meaningless to the success or failure of Missouri's season. But, against Murray State, a 68-yard touchdown run by
Henry Josey
in a 44-14 blow-out set the stage for his uplifting turnaround.
In a flash, Josey looked like the old Henry, the one who lit up the Big 12 before an awkward tackle shredded his knee and ended his year in 2011. He streaked down the right sideline, outrunning defenders again.
When he closed in on the spot where his knee exploded in November 2011, Josey hit another level, outrunning one last defender for the touchdown. It was as emotional a play as Missouri has seen, and the confidence from that run led Josey to a comeback season.
2. Sasser-to-Washington for 6: This one could be the top play of the season, but with what we know that occurred following the Georgia game, it can't be No. 1.
Still, in terms of scope and audacity of the play call,
Bud Sasser
's 40-yard touchdown pass to
L'Damian Washington
is one of the most memorable plays in the Gary Pinkel era. Missouri's 18-point lead was down to two points. Its starting quarterback was out of the game -- and, at that point, was rumored to be done for the season.
It became the biggest pass play of the year, in that Missouri used Washington's leaping grab (on which he was interfered, to no call) to run off 13 unanswered points to beat the Bulldogs 41-26. The Tigers, at 6-0, legitimately entered the national narrative after that game and suddenly were very real SEC East contenders.
If not for that play, Missouri may still have won. But it took a risky play call for the Tigers to seize back all the momentum lost from a lifeless third quarter.
1. The South Endzone to Atlanta: Henry Josey had long ago re-established himself as Missouri's starting running back. The injured knee was a thing of the past, and he was on his way to a 1,000-yard year, which was incredibly considering the severity of that injury two years ago.
So, it's only fitting that the best play of the year for Missouri's offense came on Josey's legs. With under four minutes remaining in a tie game -- and a trip to Atlanta on the line -- Josey took a hand-off from James Franklin out of the pistol formation. Missouri's offensive line blocked to its left, and Josey cut to the right, just outside of Mitch Morse and Connor McGovern.
By the time he tip-toed over a diving Clay Honeycutt, it was clear that nothing would stop Josey. 57-yards later, Josey was in the south endzone, screaming to no one and everyone, and the unlikeliest of southern road trips was set to begin.