A consistent legacy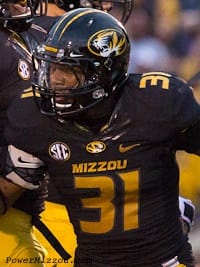 With one game remaining for Missouri's seniors, the players find themselves at the legacy portion of their careers.
For what will they be remembered?
As a class, their legacy seems secure. They're the first group of graduating players to prove nearly everyone wrong about Missouri's success in the SEC.
And then there's
E.J. Gaines
. He has plenty to hang his hat on -- a first-team all-Big 12 selection in 2011. A second-team FWAA All-American in 2013. Eight career interceptions, three career touchdowns, 30 pass deflections.
But there's one word that describes his legacy above all the accolades:
Consistency.
"That is the key word for any defensive back," Missouri cornerbacks coach Cornell Ford said. "To be able to play at a high level for week in and week out, and he's been able to do that.
"We've had some other good corners here, but he's taken the position to a whole other level with his consistency. At the point of attack, he's there were they're running the football or where they're throwing the football. He's been pretty good at that, every time we've asked him. Well, he hasn't been pretty good. He's been great."
Out of high school, Gaines was a two-way star for Fort Osage. He played running back and cornerback, while at the same time returning kicks. Ford said because of that athleticism, the staff believed it had a star in the making on the roster.
"Everyone walks in here with high expectations and they don't always meet those expectations," Ford said. "(In high school) whenever he touched the ball, he made things happen, so you saw some greatness in him."
Gaines' personality lends itself to that consistency, as his teammates describe him as one of the most level-headed players on the team. He admits that he has his "cocky moments" but being a good cornerback is about knowing your opponent.
"You have to recognize that when you're going against a good receiver, he is a good receiver," Gaines said. "They're going to make plays, too."
More often than not, it's been Gaines making plays. After receiving a fourth to sixth round grade by the draft advisory committee last year, Gaines stayed at Missouri and worked on certain areas of his game that scouts suggested.
He said one area was press technique, which Missouri doesn't run that much. Gaines worked during his own free time this season to improve that area. Another improvement that scouts deemed necessary were his hands, after he deflected 11 passes but only intercepted one in 2012.
This year, Gaines had four interceptions.
Still, his position coach says one of Gaines' years stands above the rest.
"If I were to look at this year and last year -- last year was phenomenal," Ford said. "I didn't know if he could come out and do it again, the way he did it last year. He's had a really good year, and it got better toward the end than it was at the beginning. I don't know if he got a lot of action at the beginning.
"But, man, last year was phenomenal. I don't think we've ever had a corner be that productive before."
Gaines still has one game left. He said when he looks back at his career, he doesn't see consistency.
"I'm my own biggest critic," Gaines said. "I've had bad games. I could sit here and tell you all the bad plays I've had since I've been here."
Despite that, Gaines' legacy at Missouri seems secure. His teammate,
Ian Simon
, explained it best:
"He's everything you want in a corner and more," Simon said. "EJ's going to go down in the books as one of the best DBs to step foot on this campus."
The next step is likely the NFL. When scouts talk to Ford about Gaines, he tells them he doesn't have to say much.
"All you have to do is turn on the film," Ford said. "Don't believe what I'm telling you, just watch the film. If you do that, you'll say, 'The kid can play.'
"Actually, I think he'll be a great inside player. We just didn't have the luxury here to put him inside as much as we'd like to. He can play corner, he can play dime, hell, he could be a great safety. He's a pretty special kid."
While there's no decision for Gaines -- his eligibility ends on Jan. 3 -- he's not looking toward the NFL just yet. By that example, he's making sure his teammates don't look ahead, either.
"It's tough for a lot of guys on our team, the position they're in," Gaines said. "A lot of guys have the chance to play in the NFL, but as a captain and a senior, that's what I talk about. We still have another football game. After the game, I don't care if it's five minutes after the game, you can start focusing on your NFL career."