A new-look league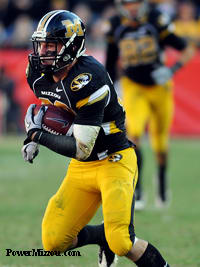 A year ago, Missouri's future-along with every other team in its conference--was in limbo. Were the Tigers Big Ten bound? Would the Big 12 implode?
Now that the dust has settled (at least temporarily) and the moves have been made, it ist's just a few weeks before Mizzou embarks on life in the new Big 12. It's a league that wide receiver
T.J. Moe
says he couldn't be happier to be a part of.
"I think we're right where we belong," the junior wide receiver said. "[The Big 12] is our comfort zone. This is what we like."
However, the O'Fallon native admits all of last summer's rumors were hard to ignore.
"When all the stuff was going around out there, we didn't even know if there was going to be a Big 12," Moe said. "We knew if there was one, we wanted to be in it as players."
While many in the media expect teams from what was the Big 12 North to struggle in the conference's new round-robin format, Moe welcomes the challenge.
"I view it as an opportunity," he said. "There's no more North versus South. It's 'hey, we're in the Big 12. If we win it, we win it and that's it. Now we're the best team and nobody can argue with it.'"
This week, Big 12 media members pegged Oklahoma as the preseason favorites to win the conference. But Moe's teammate and fellow receiver
Jerrell Jackson
says last year's win over OU is providing the Tigers confidence they could upset the Sooners again
"We've been working on a lot of things that build up our confidence," said Jackson, who caught nine passes for 139 yards and a touchdown against the Sooners last year. "And I think we can look back at our experience and games like the one against Oklahoma and know that we can do good things."
But as Mizzou prepares for life in the new Big 12, Moe says there is one thing he's going to miss.
"We're going to miss the championship game," he said.
Mizzou was 0-2 in Big 12 Championship games. In consecutive losses in 2007 and 2008 to Oklahoma, Missouri was outscored 100-38. But Moe, who never played in a championship game, says it's the atmosphere that made that contest special.
"That's the only playoff atmosphere you get in college football. The bowl game, yeah it's cool but you're not moving on anywhere after the bowl game. You get to take your pads off and go home. You win the Big 12 Championship you're either going to the National Championship or a BCS bowl."
Without a title game, the Big 12 forges ahead. And Moe says he and his teammates are ready.
"I'm not worried about it one bit," Moe said. "It's fun and it's a new challenge. It's me versus you. If I win every game then we win the conference."
Missouri kicks off its Big 12 season on September 24th on the road against Oklahoma.