A win up front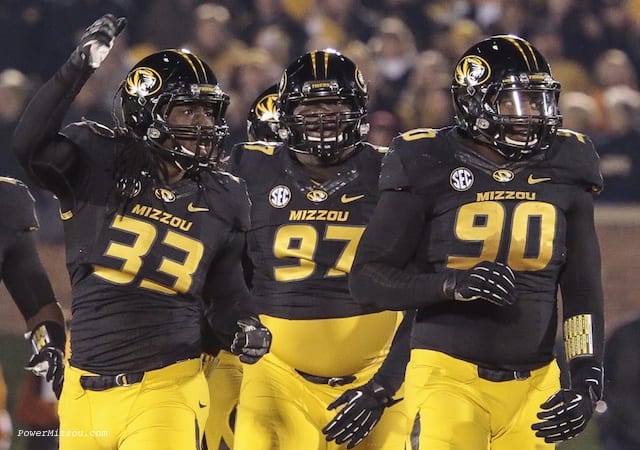 The stats tell the story of Missouri's return to form, of finding its way after losing it in the second half against South Carolina.
The stats tell that No. 9-Missouri (8-1, 4-1 SEC) routed Tennessee (4-5, 1-4) 31-3. The stats tell that the Tigers outgained the Volunteers in total yardage, 502 to 334. The stats tell that Missouri's rushing offense outgained the entire Tennessee offense, 339-334, on 12 fewer plays.
Mauk scrambled out of bounds for one yard. Missouri punted. But that play was a microcosm of the Tigers' game:
A rebound effort that began and ended at the line of scrimmage.
Mauk, for all his adventures outside of the pocket, wasn't sacked.
The Tigers ran for just one touchdown, a 26-yard rush up the middle by Hansbrough in the third quarter, the final points of the day. But there's no mistaking the John Hancock on this win.
"That's what we get paid to do, is to move people," Copeland said. "When we don't do that well, we want to make sure we redeem ourselves.
"Today was a little bit about redemption, but it was also about putting the past behind us."
Three weeks ago, Missouri was the conference's leader in rushing yards. While the rushing well hasn't run dry, it's been more sporadic, less consistent. Against Georgia and South Carolina, Missouri didn't break 160 yards on the ground and didn't break a four yard average-per-carry. So Saturday became about re-establishing that identity, and it paid off.
Last Sunday, after their first practice following a loss in nearly a year, Missouri's offensive linemen came together as a group. The message was simple.
"We definitely took it personal, " Boehm said. "As a starting five, we create the holes, we make those blocks. That's our job, it's what we do. When we don't do it against South Carolina, it tears us up.
"We said on Sunday night, 'Hey, we didn't run the ball like we want to run the ball.' We put that on us. And this week, in practice ... we put it on ourselves to finish the block, to create those holes. We had really good practices this week, and I think it proved out on the field."
Mauk's legs and his timely, if erratic, arm put the flourish on the game. He threw for three touchdowns and no interceptions, the first time in his three starts in which he didn't turn the ball over. But it was Missouri's offensive line, and a group of running backs, that controlled the game for the Tigers and ultimately led to a rebound win.
However, Pinkel said that Franklin's status for next week looks more promising.
"We think it's very possible he'll be ready for next week," Pinkel said.