After Arkansas win, Missouri looking to boost resume in St. Louis
Missouri's assumed number heading into Saturday was one.
Win Saturday against Arkansas or Thursday in the second round of the SEC Tournament, and the Tigers would almost certainly have an at-large bid to the NCAA Tournament secured.
They decided to get it out of the way earlier rather than later.
Saturday's 77-67 home win over Arkansas gave Missouri its seventh "Quadrant 1" win of the season, just one behind SEC regular season champion Auburn and among the top seven teams in the country. The Tigers have 10 RPI top-100 wins and just one "bad loss," a clunker to Illinois in late December that was so long ago Blake Harris and C.J. Roberts were still listed on Missouri's roster.
Even after losing lottery pick Michael Porter Jr. the last 29 games of the season season and seeing seeing the aforementioned Roberts and Harris transfer at the semester break, Missouri has won 20 games — including 10 in the deepest SEC in years. A team that lost 50 percent of its best recruiting class in decades before the second game of league play finished in the exact spot where it was projected to in the SEC preseason poll with all of those players on the roster. After a pair of three-game losing streaks, Missouri might have found its mojo at just the right time, playing its best game in a more than a month.
The Tigers looked every bit the part of an NCAA Tournament team, with Jeremiah Tilmon punishing Arkansas inside to the tune of 17 points and eight rebounds while Jontay Porter and Jordan Barnett combined for 38 points and 19 rebounds of their own. Even on a night when Kassius Robertson shot just 3-for-10, Missouri got plenty of help to beat another expected to be in the field of 68.
Cuonzo Martin said after the game that when he took the job last spring, he didn't expect the turnaround to be as quick as it has, but now that his team is where it's at, there's no doubt in his mind this is an NCAA Tournament team.
"Even if we lost (today), we're past that," Martin said when asked about his team's resume. "I've been past that. We're moving forward trying to work toward seeding. … "We're just as good as anybody in America. I say that, and I've said it before, we have enough to be as good as anybody as long as we're like this, and as long as those two (Tilmon and Porter) stay out of foul trouble. But at the same time, we don't have enough, our margin for error is so slim when we're not on the same page."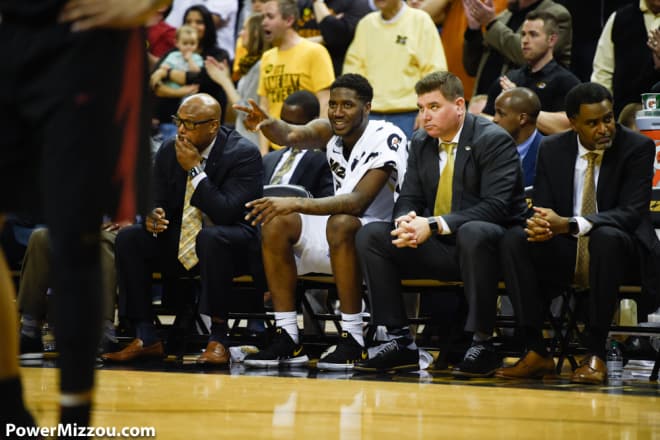 For now, Missouri projects as a likely 8- or 9-seed in the NCAA Tournament, facing Butler in Wichita in ESPN bracketologist Joe Lunardi's most recent bracket, while CBS Sports' Jerry Palm has the Tigers facing North Carolina State in Pittsburgh as of Sunday morning. Although their win Saturday didn't do much other than solidify them as a tournament team, if Missouri can win Thursday against either Ole Miss, Vanderbilt or Georgia and then knock off what was a red-hot Kentucky team in the quarterfinals, the Tigers could find themselves in position for a 6- or 7-seed come Selection Sunday.
Senior Kassius Robertson, whose teams at Canisius never made it past the second round of their conference tournament, isn't thinking about anything past Missouri's matchup with either Georgia or Vanderbilt on Thursday.
"I'm not thinking about it yet because I don't want to jinx anything," Robertson said. "We've got some big games coming up in the SEC Tournament, so I'm trying win the SEC Tournament so there's no indecision we're going to the tournament."