Another Tiger to transfer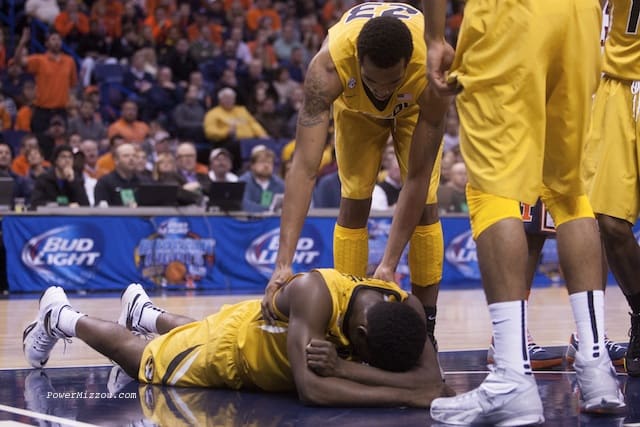 A turbulent year continued for Missouri basketball on Wednesday morning.
Montaque Gill-Caesar
will not return for his sophomore season. He has requested his release from the school. The University just confirmed the news in a statement.
"I want to thank the Mizzou Basketball program for its support, as well as thanks to all of the fans and people of Columbia who made me feel so welcome," Gill-Caesar said. "I'd like to continue my college basketball career at a school where I am most comfortable. I certainly hope to see plenty of success for my friends on the team and the Mizzou coaching staff in the future."
"We wish Montaque the best," head coach Kim Anderson said. "In an evolving conversation this week, Montaque informed our program of his future plans. He intends to resume his education and playing career at a different institution. We will assist him in every way possible in that transition, pending the completion of academic obligations he committed to with our staff. Our program cannot thank Montaque and his family enough for being a part of the Mizzou Basketball Family."
Gill-Caesar reclassified into the 2014 class last summer and committed to the Tigers shortly thereafter. He had played at Huntington Prep for Tiger assistant
Rob Fulford
. As a freshman, he averaged 9.1 points and 2.9 rebounds while playing in 26 games. In Missouri's first ten games, he averaged 12.2 points, including seven double figure efforts. But Gill-Caesar hurt his back in the Illinois game when he was fouled under the basket and his production dipped from there.
This summer, Gill-Caesar had been at home in Canada, where he was scheduled to try out for the Under 19 Canadian national team. Those plans were scrapped due to lingering back issues, but Gill-Caesar did not return to Columbia. As recently as this week, head coach
Kim Anderson
told the media he expected the sophomore-to-be to return to campus in August. Wednesday's release obviously changes that.
At this point, there is no word on any conditions placed on Gill-Caesar's release by Missouri. However, when Johnathan Williams III transferred this spring, he was restricted from transferring to another SEC school or select future non-conference opponents. A similar approach seems likely with Gill-Caesar.
In Williams and Gill-Caesar, Missouri has now lost two of the top three scorers off a team that struggled to score and finished 9-23, the school's worst record in nearly half a century.
Missouri does now have a scholarship available for 2015 and
PowerMizzou.com
reported this week that the Tigers are one of
many schools attempting to get involved
with recently qualified IMG prospect
Andre Adams
.