Beat and beaten down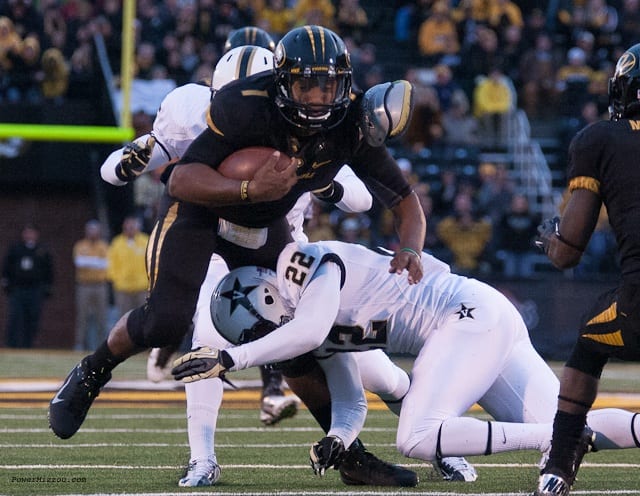 GAINESVILLE, Fla.--
Battered, bruised and beaten down, a different
James Franklin
spoke to the media following Missouri's 14-7 loss to Florida on Saturday.
That porcelain-white smile? Gone. The bright-as-a-Florida-Saturday disposition? Clouded. The earnest answers, the admitted introspection of his performance? Muted.
A different Franklin spoke to the media after throwing four interceptions in a promising, but ultimately disappointing, conference game. All season, it's been the reverse. On the field, we have seen a different Franklin than last year. He has gone from indestructable to ineffective, from a tank to a trauma victim. Off the field, we saw the same Franklin as always, bright and sincere and optimistic.
Not Saturday. Franklin trudged to a small contingent of media outside of the visitors' interview room at Ben Hill Griffin Stadium. His final interception of the day occurred not even 80 yards from that spot. All four turnovers clearly weighed on him, a spectre of a game where he had a season-changing upset in his grasp only to let it fall into Florida's hands.
Franklin stared vacantly. He bit his lower lip. He held onto a small backpack, thumbs through the straps. There were no "Yes, Sirs" or "No, Sirs." Franklin answered ten questions, his voice fading each time, becoming barely audible by the last query thrown his way:
Does this loss hurt more than others?
Franklin's response was more visual than vocal. He moved his head. He bit his lip. His eyes weren't there, looking back down the tunnel, toward the south endzone where Missouri's Welcome-to-the-SEC moment never happened.
It was clear that, for Franklin, this loss hurt more than the others. This new Franklin is the result of the toughest, most trying Missouri season since 2004, both for the starting quarterback and his team. Franklin bore the weight of those expectations, fairly or unfairly. An inconsistent yet ultimately explosive sophomore season made the dual-threat quarterback Missouri's poster child for the SEC move. The Tigers wouldn't miss a beat in the SEC, and it would be because Franklin combined toughness and finesse on the field. He epitomized Missouri's new-look offense -- a fancy spread with an effective run game at its heart.
But in the spring, Franklin's mystique took its first hit when he tore his labrum on a seemingly innocuous dive for a fumble. After running through defenders and taking hits in the pocket in 2011, it was that play that made him seem human. He missed the rest of the spring, returning for August camp. He didn't take any hits that camp, of course, because of a green jersey and a hands-off policy by the defense.
Since the beginning of the season, Franklin has been picked over and critiqued for injuries, for choosing not to take a pain-killing shot, for not being the same player he was in 2011. And, he hasn't been that same player. Not since the hit on his shoulder by Georgia's
Jarvis Jones
. That play changed the course of the season for the Tigers and for Franklin.
Franklin remained upbeat, however, through it all. Until Saturday. He remained upbeat despite his coach announcing a personal decision not to take a Cortisone shot. He remained upbeat despite subtle perceived critiques from teammates. He remained upbeat despite losses and DNPs.
Now, he has the support of his coach, who has returned to talking about Franklin's toughness with scoffs and amazement. He has the support of his teammates, who rode the momentum from his return against Kentucky to a victory.
He's not the same James Franklin, though. His post-game demeanor showed he knew where to place the blame for the loss. Against South Carolina, Franklin admitted his struggles made matters worse in the loss. On Saturday, it was what he didn't say that showed he blamed himself.
After the interview, Franklin began a slow trudge away from the media. Two Florida fans, both wearing blue Tim Tebow jerseys, stopped him for a picture. Franklin complied, and shook both of their hands. They gave him words of encouragement, saying they were impressed with his play. Franklin smiled slightly and nodded thanks.
He walked away from the belly of Ben Hill Griffin Stadium, his drawstring Lebron James "23" bag bouncing from side to side on his back. The new Franklin walked alone, toward a bus somewhere filled with his teammates.
It's unclear when we'll see the old James Franklin again.