Brown lands at Mizzou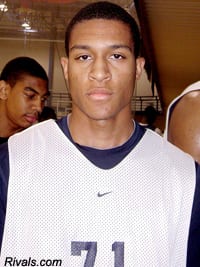 Upon taking the Missouri job,
Frank Haith
added two transfers in the Class of 2011. On Monday, he added his highest-profile transfer yet. Former Oregon Duck
Jabari Brown
committed to the Tigers this morning.
"I spoke to my son and he did commit to coach Haith this morning," said David Brown, Jabari's father. "He thought that was the best program, the most high-profile program of the schools he was looking at and he is a Tiger."
Brown was a five-star prospect and the No. 19 overall player in the Class of 2011. He signed with Oregon out of high school. Brown played an overseas tour this summer with the Ducks and started the first two games, but decided to leave the program. He visited Mizzou two weeks ago and Georgia Tech this past weekend before making his decision. San Diego State, San Jose State and Kansas were also rumored to be in the mix.
Brown plans to enroll at Mizzou for the second semester, which would make him eligible when first semester ends next year.
"This is the decision we have been thinking he was going to make and hoping he would make," David Brown said. "So we had a head start on some of the paperwork so that he can enroll in January."
Rivals.com national analyst Eric Bossi provided the following scouting report on Brown:
"Jabari is, at least on the high school level and hopefully now on the college level, a well-polished wing scorer. He can shoot it out to college, if not NBA range and he has a body that will be able to hold up in the SEC. He is a good athlete, but he's not going to overwhelm people athletically. He is what I would call a crafty scorer. He can shoot it, he can post up and he has a mid-range game that will serve him well."
With Brown's commitment, the Tigers now have seven commitments for the Class of 2011. Five signed in November and
Shawn Smith
recently told
PowerMizzou.com
he still planned to sign with Missouri in the spring.
Nobody covers the Tigers year-round like PowerMizzou.com. If you are not yet a member, just try out our free trial.