Build-up to the fall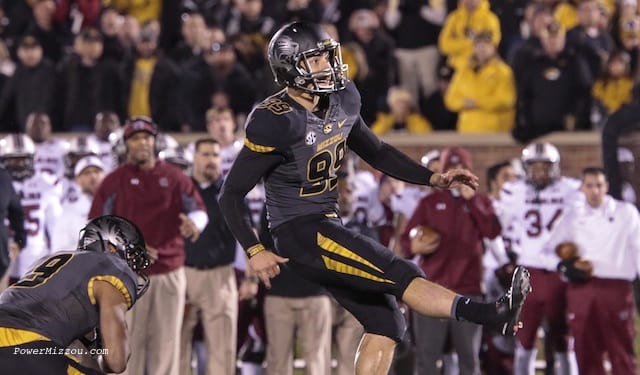 It's the clang of Andrew Baggett's double overtime field goal attempt that will resonate loudest from No. 5-Missouri's 27-24 loss to 22nd-ranked South Carolina.
That clang, the ding off the left upright that sent South Carolina players into a frenzy across Faurot Field after nearly four hours of game time, was the finale on a building sense of dread. It was the clang on a game that could have been put away early. The clang on a game that could have been put away late. The clang on a game that could have been put away often.
"It didn't come down to one play or one kick or one catch or what have you," Missouri coach Gary Pinkel said. "Everybody could have made something different, something throughout the entire game."
"It doesn't come down to him," quarterback
Maty Mauk
said. "It comes down to everyone. We had a lot of stuff we didn't finish on. It's nothing on him. It's a team loss, so that's all I have to say about that."
Missouri forced three first-half turnovers to enter halftime with a 14-0 lead. Two of those turnovers -- the first fumble by South Carolina running back
Mike Davis
and an interception thrown by quarterback
Dylan Thompson
-- resulted in no points. The Tigers did capitalize on a missed field goal by Elliott Fry, going 77 yards on nine plays and ending with an 11-yard touchdown run by
Marcus Murphy
to take a lead late in the first quarter.
The Tigers added to the lead with a 96-yard touchdown pass from Mauk to
L'Damian Washington
following Davis' second fumble of the night.
That would be the high-water mark for Missouri's offense, though. The Tigers had 261 first half yards. Mauk was 6-of-13 for 175 yards, a touchdown and an interception. Missouri's run game added 86 yards on 20 carries.
Missouri finished with 404 yards of offense. Mauk completed four of 12 second-half passes. Missouri's ground game ran for 59 yards on 21 second-half carries.
Clang.
"Obviously, it's real frustrating," Mauk said. "You're driving on them but you don't finish."
The defense, though, held steady. Though the offense couldn't twist the knife, Missouri's defense continued to hold South Carolina scoreless, preserving a 17-0 lead into the fourth quarter. By that time, however, Steve Spurrier replaced Dylan Thompson with the supposedly gimpy Connor Shaw at quarter. With 6:36 remaining in the third quarter, Shaw took his first snap after spraining his knee a week ago in a loss to Tennessee.
"I would say we were expecting it," defensive end
Shane Ray
said. "But we weren't sure, you know. We heard somethings. He might come back. That wasn't our focus. Our focus was to go out there and play our defense.
"When he came back, we just, same ol' thing, let's just do what we do."
The Gamecocks' punted on Shaw's first possession. From there, South Carolina's offense clicked. The Gamecocks went 65 yards in 13 plays to score on a six-yard pass from Shaw to Bruce Ellington to cut the lead to 17-7.
Missouri failed to cover a screen pass on third-and-19 after
Michael Sam
's tenth sack of the year, as Shaw connected with Davis for a gain of 19. The next play, Ellington scored.
Clang.
Missouri's ensuing drive ended in a 46-yard missed field goal by Baggett, and the Gamecocks responded with another long drive, kicking a field goal after going 69 yards in 11 plays. A 17-0 lead quickly became a one-touchdown game. The Tigers went three-and-out on their next possession.
With 3:08 remaining in the game, South Carolina began its final drive of regulation. Shaw and the Gamecocks ate up large chunks of yards through the air and with screens -- 20 yards to Ellington, completions of 13, 8 and 15 to Davis -- before a two-yard pass to Nick Jones tied the score with 42 seconds remaining.
After one pass for a loss of three yards, Missouri opted for overtime.
The Tigers scored on four plays to start the first overtime, and its defense forced South Carolina into a fourth-and-goal situation from the 15-yard line on the rebuttal. But Shaw found Ellington running a corner route into the endzone, and with separation on Missouri safety Ian Simon, it was an easy throw to tie the game.
Clang.
"Naw, I don't have an idea," defensive end
Markus Golden
said. "They made a good play. They made a good play out there and they got it done."
"It was just a man coverage route," Pinkel said, "a corner route. But, again, there are other plays. You go through a lot of plays in different situations, but certainly it was a big play."
All the miscues, all the mistakes led to the loudest clang of all. They led to Baggett's game-tying attempt in the second overtime banging off the top of the left upright. They led to South Carolina's players celebrating on the field and into the locker room.
They led to a weakening grip of Missouri's stranglehold on the SEC East, and for one night at least, they led to the lights of Atlanta fading a bit in the distance.