Camp Preview: Offensive Line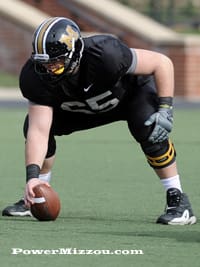 PowerMizzou.com will get Tiger fans ready for fall camp like no one else. Camp opens on Thursday, August 4th. Between now and then, we will provide an in-depth preview at every position on the roster. Today, we look at the offensive line.
The Starters
The Backups
Britt and
Jack Meiners
will play plenty.
Anthony Gatti
and
Chris Freeman
showed promise in the spring. Freeman is a tackle, Gatti could play either guard or tackle.
Mitch Morse
may be another year away, but has a shot to be the heir apparent at center soon.
What to Like
Four returning starters, three of whom will enter their third full year on the first-string. There is no doubt this is expected to be the best offensive line
Gary Pinkel
has had at Missouri. The top seven are solid and experienced.
What to Wonder About
Really, it all comes down to replacing Barnes. If the Tigers can do that and stay healthy, the offense could well be better than it was a year ago.
The Expectations
Hoch and Fisher should push for all-conference honors. They can single up on the outside most of the time. The interior players, and the center in particular, will have to prove they're up to that standard early on.
Nobody covers the Tigers year-round like PowerMizzou.com. All of our previews leading up to the first practice will be free content. If you are not yet a member, just try out our free trial.