Camp Preview: QB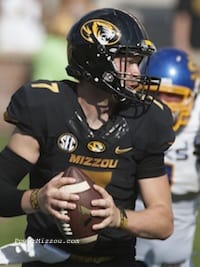 On Aug. 6, Missouri opens its preseason camp for 2015. Prior to that Thursday, PowerMizzou.com is taking a look at every position group to see what Missouri has returning and the outlook as the Tigers attempt to make it three SEC East titles in a row.
Today, we start with quarterback.
Returning Stats: 100% -- 221-415, 2648 yards (6.4 yards/att); 25 TD, 13 INT; 108 carries for 373 yards (3.45 average), 2 TDs
The Starter:
Barring injury, redshirt junior
Maty Mauk
will undoubtedly be Missouri's starter come Sep. 5. Mauk hasn't been consistent in his year (and a quarter) of being the Tigers' starter, but you can't question his results. In 18 starts, Mauk is 14-4 with two bowl wins. Consistency will be the name of the game this August and beyond for Mauk. As he said during SEC Media Days in Hoover, he won't be asked to put up "video-game numbers." Instead, he'll be tasked with becoming a steady hand and calming influence behind center, working with a reshuffled offensive line and a largely new crew of receivers and tight ends. He's yet to put up big numbers in preseason camp or spring football, but that's not important. Key in on completion percentage and being protective with the football this August.
The Backups:
There was no unexpected shuffling of the back-up order when the summer depth chart was released. Redshirt sophomore
Eddie Printz
remains the back-up, and all expectations is that he'll hold onto that spot. Printz has attempted one career pass, but he got more snaps with the No. 1-offense in the spring. That should continue, as getting him ready in case of injury becomes more important. Redshirt freshman
Marvin Zanders
moved to No. 3 after leap-frogging redshirt senior
Corbin Berkstresser
in the spring, and there's still a chance we could see him get some snaps this fall as a change-of-pace running threat. While he's not on the depth chart yet, freshman
Drew Lock
will get his first chance to impress this August, as well.
Camp Outlook: The back-up order is subject to change, but Mauk has a strong grip on starter and barring something unexpected, it will remain that way. While Zanders could potentially make a push for the back-up job, Printz has shown a steady hand so far in his practice career and that's something the staff covets in a back-up. Lock has worlds of potential, but there's no need to rush him into being ready to play as a true freshman.
Projected Depth Chart: Mauk, Printz, Zanders, Berkstresser, Lock (RS)