Camp Preview: Wide Receiver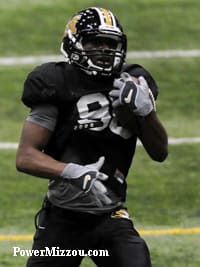 PowerMizzou.com will get Tiger fans ready for fall camp like no one else. Camp opens on Thursday, August 4th. Between now and then, we will provide an in-depth preview at every position on the roster. Today, we look at the wide receivers.
The Starters
T.J. Moe
was among the nation's leaders in receptions and is the no doubt No. 1 target.
Jerrell Jackson
had a monster game against Oklahoma and is Missouri's most experienced wideout.
Wes Kemp
had big moments, particularly in a 30-9 win over Texas A&M and consistently sprung big runs with huge blocks. The trio all started every game last year and enters camp expected to do the same again in 2011.
The Backups
What to Like
The sheer number of options. If one guy isn't getting it done, there should be no hesitation to turn somewhere else. Moe is one of the best in the country at moving the chains and has big-play potential from time to time, as he showed against San Diego State. Kemp isn't a superstar, but last year was his best and he looks to be on the upswing. Jackson's talent isn't a question. He simply needs to show it every single Saturday. McGaffie's emergence in the spring was somewhat of a surprise. Lucas, Hunt and Sasser all have the ability to play and produce a ton, which will put pressure on Woodland and Washington. The competition should make everyone better.
What to Wonder About
Who provides the big plays? Missouri completed a ton of passes, but the huge gains were way down from the days of Maclin and Alexander. Can one of the youngsters consistently get behind the secondary? Woodland can, but can he catch the ball on a regular basis? A lot of bodies, but it's still unclear if the Tigers have a true No. 1 receiver or a strong collection of twos and threes.
The Expectations
The receivers simply have to provide consistency and big plays for Franklin. They have to take the pressure off of him. The line is in place. The backfield is experienced. As long as Franklin throws the ball to the right team, the receiving corps will determine whether this Missouri offense is a good one, or one capable of producing the way Missouri did in Chase Daniel's last couple of seasons.
Nobody covers the Tigers year-round like PowerMizzou.com. All of our previews leading up to the first practice will be free content. If you are not yet a member, just try out our free trial.