Camp Preview: WR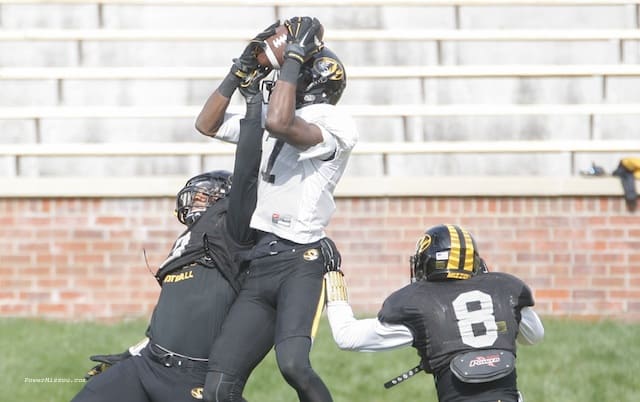 On Aug. 6, Missouri opens its preseason camp for 2015. Prior to that Thursday, PowerMizzou.com is taking a look at every position group to see what Missouri has returning and the outlook as the Tigers attempt to make it three SEC East titles in a row.
Today, we continue with receivers.
Returning stats: 6.3% of receptions, 5.2% of receiving yards -- 10 catches for 114 yards
The Starters:
"Starters" may be a relative term here, because when you return just three players in a position group with catches (and none had more than five), every job is up for grabs. Right now, those three players are atop the depth chart at their respective receiver spots. Redshirt senior
Wesley Leftwich
(Z), sophomore
Nate Brown
(H) and redshirt junior
J'Mon Moore
(X) will begin August camp as the favorites, but every job is open as Missouri looks for production from a largely green group of pass catchers.
The Backups:
There are two juniors among Missouri's back-ups --
Eric Laurent
, who is behind Brown at the H-spot, and
Jake Brents
, the No. 3-Z receiver. Both players are walk-ons. Everyone else is either a redshirt freshman or true freshman. Right now,
DeSean Blair
backs up Moore at the X-receiver spot;
Keyon Dilosa
is behind Leftwich at the Z;
Thomas Richard
is the No. 3-H receiver and
Raymond Wingo
is third at the X. All four are redshirt freshmen, and Wingo just made the move to receiver in the spring after beginning his Missouri career at cornerback. While they're not on the depth chart yet, true freshmen
Johnathon Johnson
,
Emanuel Hall
,
Richaud Floyd
,
Ronnell Perkins
and
Justin Smith
will get a chance to avoid a redshirt with strong preseason camps.
Camp Outlook: While the group is very much in flux, it's likely that Brown, Leftwich and Moore begin the season as the starters. Brown especially has high expectations, but he had a bit of a set back in the spring with a knee sprain; if he stays healthy, he could easily become the Tigers' top receiver this season. Blair showed the most promise out of the redshirt freshmen in the spring, becoming a frequent target in the scrimmages leading up to the spring game. Perhaps the most interesting story line to watch this August is which (if any) true freshmen avoid a redshirt. With so little returning production at the position group, you'd have to imagine that at least one (and possibly two) freshmen will work their way into the rotation. Based on summer workout chatter, Johnson and Hall have had the best returns early on.
(Also, Perkins is listed as a receiver on the roster, but we've heard he was working at safety this summer. There's no official word on his actual position yet, beyond what's listed on the roster.)
Projected Depth Chart: X: Moore, Blair, Wingo; H: Brown, Laurent, Richard; Z: Leftwich, Dilosa, Brents.
(We don't know yet where the freshmen are lining up, but Johnson and Hall are early safe bets to make the first depth chart this season at some receiver positions.)