Coachs Corner: Joe Burkett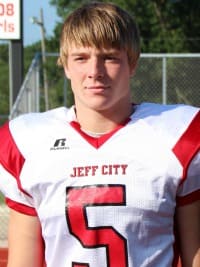 When Jefferson City (MO) linebacker
Joe Burkett
committed to Missouri on Feb. 11, he wasn't a household name. Burkett was overshadowed on his team by an all-state senior. He was overshadowed in the state by four-star linebacker
Nick Ramirez
.
But, according to Jeff City head coach Ted LePage, Missouri made sure to wrap up Burkett before he stepped out of the shadows. In LePage's opinion, it's only a matter of time before Burkett blows up.
"Joe is one of those guys that just has unbelievable closing speed," LePage said. "I'd think something was open, and he would shut down that avenue quickly. He's a dynamic player, and his athletcism really stands out when you see him play."
Burkett's athleticism stands out in multiple sports. Burkett is one of the state's best pole vaulters, but it's another sport that set the stage for Burkett to become an FBS defender.
"I would attribute a lot of his prowess to his gymnastics background," LePage said. "His father owns a gymnasium, and for as long as I've known Joey, he could do back handsprings, back tucks, push-ups just on his hands. Anything you can think of. That's where he got a lot of the athletcism, and I think that's done more to help him in football than anything else.
His time as a pole vaulter also helps.
"It takes a lot of confidence to run full-speed down a track, plant a pole into the ground and fling yourself nearly 15 feet in the air," LePage said through a laugh.
LePage believes that Burkett could be a hybrid linebacker in college. At 6-foot-3, 205-pounds, Burkett hopes to play near 220-pounds as a senior. LePage said it may be hard for him to add weight in high school, as Burkett works at a concrete block factory during the summer.
But, once he reaches college, LePage doesn't think Burkett will have a problem adding weight.
"He's got the frame to," LePage said. "He jumps out at you when we walk out of our spring sessions. He's pretty well built, and he could carry 15 to 20 more pounds."
While Burkett may not have the bulk to consistently play inside linebacker at Missouri, LePage said his skill set is so diverse that it won't matter.
"He'll be able to cover receivers and rush from the outside," LePage said. "In the SEC, you always need those hybrid defenders."
Nobody covers the Tigers like PowerMizzou.com. If you are not yet a member, just try out our free trial.