COMMENTARY: Burden of Proof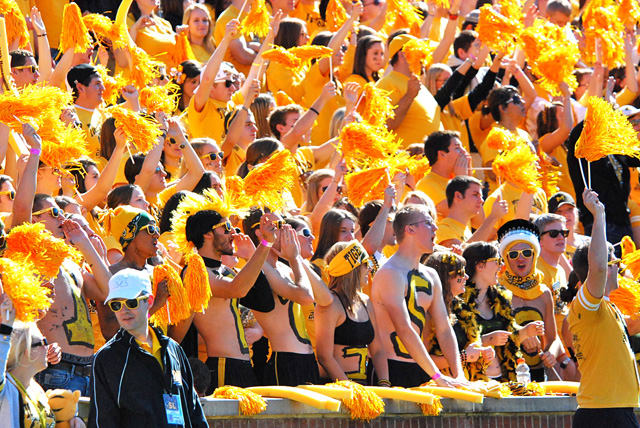 I'm sure the sun is shining a little brighter this November morning for Missouri fans. I'm sure the birds are chirping, Columbia is buzzing, and suddenly that game against Texas on Saturday means just a little bit more.
Celebrate Victory over Bevo Day. It's been a long time coming, and in a Big 12-rivalry as one-sided as Missouri and Texas, even moral victories count. When you find a special lady to dip and kiss, just make sure she's wearing a sundress.
Welcome to the first day of the rest of your lives. As SEC commissioner Mike Slive said in Sunday's press-conference-cum-pep-rally (pep band, dance squad and confetti included):
"Welcome to your new home."
There will be an adjustment period for Missouri. While I'm not quite the doom-and-gloom naysayer that believes Gary Pinkel's football team will never win another conference game, there's nothing easy about sliding over into the nation's premier football conference, where national titles have come in the form of party favors. Make the Big Game out of the SEC, and that top-ranking is a mere formality.
Frank Haith's newly inherited basketball program trades one harsh-consonant powerhouse for another, as Kentucky replaces Kansas in the SEC's top-heavy basketball landscape. And, of course, the non-revenue sports could be in for a tough acclimatization, especially in baseball and softball.
(Wrestling, sorry. You'll have to do your own thing. The SEC doesn't wear singlets.)
There's a burden on Missouri's entire athletic department to make this move successful. The Greenback-Paved Road from Columbia to Birmingham and back again was accompanied by billboards of $tability. Money begets money, and while the Tigers no longer have to hack into Facebook accounts in Norman and Austin to see who Okahoma and Texas are chatting up, Missouri's athletic department now must look ahead at the costs associated with stadium renovations and travel budgets to remain competitive.

Click
Here
to view this Link.But the biggest burden of them all is on you, John Q. Fan. At the heart of this move, fans were the catalysts. MU chancellor Brady Deaton and director of athletics Mike Alden didn't hide that fact on Sunday, making numerous references to the "thousands" of e-mails they each received during this courting process.
Some of you are chafed and sore. In any break-up, friends of both parties are caught in the middle. The Old Guard of Missouri supporters have fond memories of the Big 6, Big 8 and even the latest incarnation, the Big 12. You're best friends with the Tigers. But you grew to love their partner, too. And now, both have moved on. You're left toeing the line of loyalty to two institutions that have their (singular) best interest at heart.
I know it hurts. But, like Missouri and the Big 12 did, it's time to move on.
The vocal majority, however, appear to be in support of this move. They're the realists in this scenario. But now, they need to do more. All of Missouri's fans need to do more.
I grew up in the South, smack dab middle in the Heart Of It All. Down there, football is Football and traditions are Traditions. Only three letters separate Culture from Cult, and right now, that's probably how many of you see the SEC. That Southern Culture is more like a cult.
Southern Culture is unique in and among itself, and the SEC doesn't mince words. It's a conference of Tradition with Southern heritage at its root. Many of you are cringing at the thought of Southern Culture invading central Missouri, invading a city of 108,500 with a land-grant university at its heart. Columbia, and the University of Missouri, are a melting pot of different influences. And now, Bama Bangs and Sperry Topsiders and above-the-knee, flat-front shorts are going to annex the town on gamedays. Oxford shirts with universities' emblems stitched into the breast pocket and ties or -- gasp -- bow-ties will become the norm instead of a quaint aberration.
(I don't think any red-blooded Missouri Man will complain about sundresses, however.)
The University of Missouri, you say, isn't a good fit for that SEC Culture. And you're right, at this point. But it ain't because of formal attire or haircuts.
The SEC Culture you hear so much about -- dressing up and taking dates to games, for instance -- that's Southern Greek Culture. That's fraternity life in the South, of which it's a big part. But for every Frat guy or Sorority gal dollin' up for games, there's a hipster that left a Wilco concert at the 40 Watt on a Friday night in Athens, Ga., to get ready to see a game Between the Hedges on Saturday afternoon, making sure to wear their red-and-black Toms. For every white-linen tailgate on the Grove in Oxford, Miss., there are even more guys drinking warm PBR out of the back of a Toyota Camry and tossing around a football in a parking lot while wearing Archie Manning No. 18 jerseys.
SEC Culture is a Cult of Football, a Cult of Sport. It doesn't matter how you dress (SEE: Jorts in Gainesville) or whether you drink Bourbon out of a Mason jar or out of a plastic cup. SEC Culture has football at its center, and that's all that matters.
That's where the burden on the fans comes in to play. To make this move a success, it's about the fans. Will you come early and stay late? The SEC doesn't allow halftime exit-and-reentry, and for some of you, that halftime beer bong may be missed. Missouri's attendance for home games isn't anything to brag about; even in 2008, the Year of Great Expectations, the average attendance was 64,520, or 91-percent of the current carrying capacity of 71,004. Sell-outs at Memorial Stadium are the exception, not the rule. If Missouri follows through on rumored stadium upgrades that could bring the capacity over 80,000, will there be gold in those seats? Or will they go empty, or -- perhaps worse -- be filled by 20,000 fans of the opposing team?
Fear not about that Southern Culture. Midwest Culture will always prevail in Missouri. But those two cultures aren't as different as you may think. Florida president Dr. Bernie Machen, a St. Louis native and a self-professed Mizzou fan in all matters not concerning the Gators, agrees.
"I think the culture stuff between the Midwest and the Southeast is way overdone," Machen said on Sunday.
One isn't better than the other, and my home-grown affinity for all things Southern doesn't mean to imply that. But, if Missouri's move to the SEC is to become as successful as possible for both sides, it's not about Gary Pinkel or Frank Haith or James Franklin or Phil Pressey. It's not just about wins and losses. It's not just about money.
It's about the fans.
Breathe deep, Mizzou Nation. This is the first day of the rest of your lives.
Who do you want to be?
MORE ON THE MOVE TO THE SEC: