Criswell still uncertain for short-handed Tigers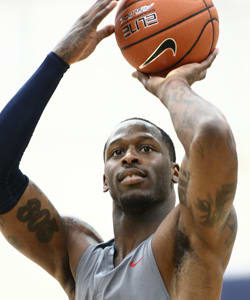 Criswell has missed Missouri's last three games since breaking a finger on his left hand against Illinois in the Tigers' final game before Christmas. The 6-foot-9 forward was averaging six points and nine rebounds in just under 18 minutes per game prior to the injury.

Without Criswell, the Tigers have struggled on the glass. Missouri won the rebounding battle in each of its first 12 games and was second in the country in rebounding margin at the start of 2013. But Bucknell and Alabama both grabbed more rebounds than the Tigers. And now they will be without Bowers' 6.9 boards per game for at least the next two games after he sprained the MCL in his right knee in Tuesday's win over Alabama.
"There's no question, our rebound numbers are down a little bit with not having Tony and now not having Laurence. We don't have that depth and rotation we did early in the year," Haith said. "Our guards have got to do a better job of rebounding the ball."
Regardless of just how many hands are on deck for the Tigers, the game in Oxford appears a bit tougher than it did at the beginning of the season. The Rebels are 12-and-2, fresh off a dominant 94-76 win at Tennessee on Wednesday night. Especially with a win against Mizzou, Ole Miss could stake claim to the early season bid for fourth-best team in the SEC behind of Missouri, Florida and Kentucky, whom most consider a cut above the rest of the conference.
"He's got the ultimate green light and he can get it going," Haith said. "You can't be surprised by any shot he takes or for that matter any shot he makes."

The Tigers and Ole Miss tip off at 7 p.m. Central in Oxford on Saturday night.