Dalton built a Blue Springs legend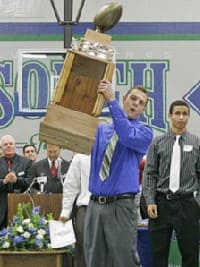 "Every time I think about Blue Springs South," said Blue Springs wide receiver
Keeston Terry
, "I think about Blaine Dalton."
As he announced Dalton as the Thomas A. Simone Award winner as the best high school football player in Kansas City, long-time local television personality Dave Stewart talked about "The Blaine Dalton Factor." The attention is always on the future Missouri Tiger. But that doesn't mean he's used to it. That doesn't even mean he likes it.
"A reporter over there wanted to talk to him and he was like, 'Coach, do I have to?'" said South coach Greg Oder. "He's just not really about all that. He's just about playing."
Dalton has been considered one of the best players in Missouri, and perhaps one of the nation's top prep quarterbacks, since leading the Jaguars to an unbeaten season and a state title as a sophomore. His touchdown pass, preceeded by a full 13 seconds of scrambling while waiting for a receiver to break open, caused the color commentator to proclaim they should "Give Blaine Dalton two touchdowns on that one," and has become the stuff of YouTube legend among Missouri fans. At that point, Dalton became a star not just in Blue Springs, but in recruiting circles as well. He could have been an Elite 11 quarterback. He could have had another gold star next to his name on Rivals.com. He just didn't care.
"The thing that sticks out most to us is how unselfish he is," Oder said. "Halfway through his junior year, he had everything a high school football player could want. He had a state championship and a Division One scholarship."
And yet, Dalton dedicated himself not to his college career, not to raising his recruiting profile, but to winning another state title at Blue Springs South.
"He was never bigger than Blue Springs South football and I think that says a lot about him," Oder said. "Thanks, Blaine, for the mark you have left on Blue Springs South football."
That mark got a little more prominent on Tuesday, when Dalton raised the Simone Trophy in front of a jam-packed gym and former winners like Chase Coffman and Josh Freeman. But still, Dalton was thinking about his team.
"A state championship my senior year would have been real nice," he said. "But getting this award, it's a great honor."
At some point soon, Dalton will turn his attention to another team: The Missouri Tigers. He committed to Mizzou way back in October of his junior season. The plan, for most of the last year, has been to leave South a semester early and enroll at Mizzou in time for spring football, to begin competing for his spot on the depth chart. But days like Tuesday remind a kid what it's like to be a high school legend. That's tough to give up.
"My family's been talking about me sticking around and probably playing a little bit of baseball," Dalton said. "We'll see what happens."
"We support Blaine in whatever he wants to do. I think as far as getting a leg up, spring practice is the way he needs to go," said Jim Dalton, Blaine's father and former coach. "I'm lobbying for that because I feel that you go through spring, you get acclimated to your classes in college, you get acclimated to the Missouri program, the nuances. And Saturday, there's not a big game. There's no pressure, you kind of learn the offense, get used to your new teammates. So that would be my input."
But dad sees the other side of the discussion as well.
"He's kind of gone back and forth. I understand that," Jim Dalton said. "You're only a kid once. When you take that step, you're basically saying, 'I'm a man, I'm not a kid anymore.'"
Blaine Dalton has always been not just
a
man, but
the man
. Still at least a month from setting foot on campus in Columbia, he has been drawing comparisons to current Missouri quarterback
Chase Daniel
for going on two years now.
"I'm sure the fact that Blaine's going there. I don't know, would that comparison still be there if Blaine was going to another college?" Oder asked. "I'm sure that the build has something to do with it. He slings it around, and so does Chase, so that has something to do with it."
"That's a lot of pressure, yeah. I don't know how accurate it is," Jim Dalton said. "Blaine's a little bit faster. I think Chase is more of a throw first, run second guy and Blaine may be a little bit of a run first, throw second guy. That would be tough shoes to follow, you're talking Missouri's all-time leading passer and he's basically rewritten the record book. But you know what? That's what he'll do."
Whenever he arrives on campus, a battle that has been brewing behind the scenes for more than a year will officially commence.
Blaine Gabbert
committed to Missouri just weeks after Dalton. Gabbert has been on campus for four months now, learning the Missouri offense and even seeing limited action in a handful of games as a true freshman. While Dalton has drawn comparisons to Daniel for his style of play and his fiery nature, Gabbert is perhaps the anti-Daniel. He is the Golden Boy, the one you see from afar and just
know
is an NFL quarterback. Daniel would not win any quarterback beauty contests; Gabbert would win them all. Daniel overcomes physical limitations and wills his team to win; Gabbert has all the God-given physical gifts in existence.
Fair or not, the two Blaines will be forever linked to each other. One will likely be the Tigers' starting quarterback next season. If it's Gabbert, he will have fulfilled those prognostications of greatness, and Dalton will have to cede the spotlight and wait for his chance. If it is Dalton, he will have followed Daniel's path once again, having proven wrong all of those who say a quarterback has to be 6-foot-5 with a rocket arm to play Division One football.
"Some of the things, you just can't explain either, that Blaine is able to do or get out of kids. His approach to stuff, you can't really explain it," Oder said. "That 'it' factor that they always talk about, he's definitely got it. He does not accept failure at all."
Sounds a lot like the quotes that came out of Southlake, Texas some four years ago.