Decision nearing for Sasser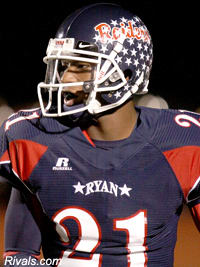 Despite beating Denton-Guyer 50-29 a month ago,
Bud Sasser
and the Ryan Raiders couldn't duplicate their success in the semifinals of the Texas state playoffs. Ryan fell to Guyer, 28-25, after a mistake-filled game.
Sasser said Guyer didn't do anything different in the rematch. Instead, it was what the Raiders didn't do that cost them the game.
"We didn't do what we needed to do to win the game," an obviously disappointed Sasser said. "We didn't throw and catch, like we usually do."
The game was a contrast of styles. Guyer rushed for over 300 yards, and the pass-happy Raiders attempted to ride their aerial assault. However, record-setting quarterback
Scotty Young
threw five interceptions -- including three in the endzone -- which kept Ryan from pulling away. Young had eight interceptions for the season entering the game against Guyer.
After a slow start to the season, Sasser said he was proud of his performance. For the second straight year, the three-star receiver hauled in over 20 touchdown catches (21), and went over the 1,000 yard mark for the first time in his career.
"I feel like I got better and better," Sasser said. "I'm still proud of what we accomplished as a team."
Sasser was able to visit Nebraska and Arizona during the season, and now has his sights set on Missouri. He said he will "most likely" visit Columbia this weekend, although he'll know for sure late Tuesday or early Wednesday. From there, he said a decision could come quickly.
"I'm just waiting on the time that feels right," Sasser said. "I'm waiting till I feel comfortable, feel at home."
For those reasons, Sasser isn't ruling out a commitment when he visits.
"It has to feel good to be there," Sasser said. "I need to feel like I could have a good relationship with the receivers' coach, too."
Sasser has already eliminated Nebraska, and said his decision will most likely come down to Arizona and Missouri.
Nobody covers the Tigers like PowerMizzou.com. If you are not yet a member, just try out our free seven-day trial.